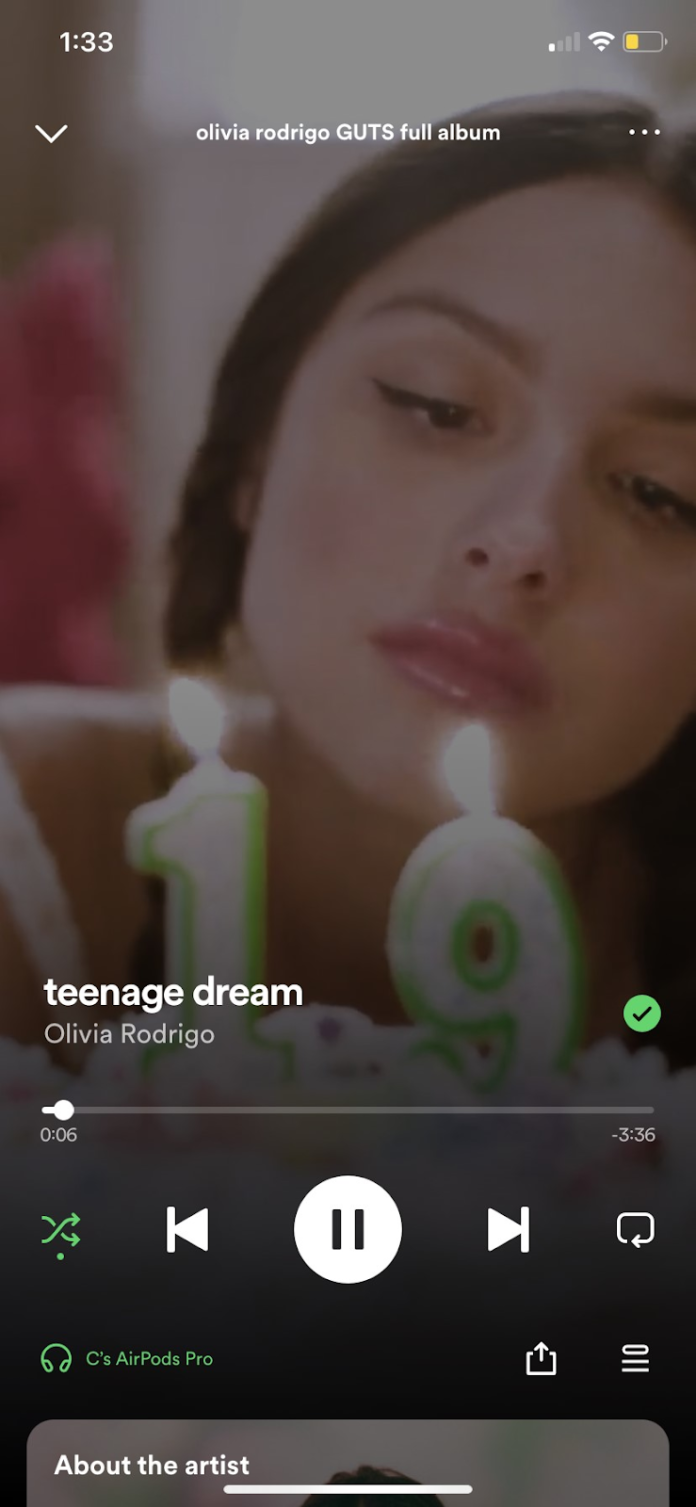 On Friday, September 8, worldwide pop sensation Olivia Rodrigo released her highly anticipated sophomore album titled GUTS. 
The album came more than two years after her debut record SOUR. After SOUR gained worldwide popularity, fans of Rodrigo were excited to see what else she had in store for them.
The lead single of the new album, "vampire" instantly became a hit. "vampire" debuted at number one on the global Billboard chart and held the position for a week. The single exhibits Rodrigo's maturity as a vocalist, but holds a similar tone to her previous work, as Rodrigo belts about the betrayal of heartbreak.
But the mood of Rodrigo's music began to shift with the release of the second single preceding GUTS, "bad idea right?". Lacking the passionate, building elegance of "vampire", "bad idea right?" takes one a punk-rock sound and promiscuous theme that marks the apparent shift of Rodrigo's musical trope.
As one listens to GUTS, it's impossible not to compare it to SOUR and the rest of Rodrigo's early work as an artist. GUTS replaces SOUR's tone of teenage innocence with a narrative of newfound recklessness and struggle, tangling Rodrigo's experiences as a teenager with the growing pains of becoming an adult.
The rise of Olivia Rodrigo
Rodrigo's career as a musician took off with her role in the 2019 Disney+ original series High School Musical: The Musical: The Series.
Rodrigo plays the lead character in the TV series named Nini. The show follows Nini as she is cast as the female lead in her highschool drama program's production of High School Musical. Forced to perform alongside her ex-boyfriend, Ricky (played by Joshua Bassett), Nini must decide if she is willing to forgive him or risk ruining the musical for everyone.
Rodrigo's talent became evident shortly after the release of the first season of High School Musical: The Musical: The Series. The most popular song on the serie's soundtrack, "All I Want", was written and performed entirely by Rodrigo at just sixteen years old.
The buzz surrounding Rodrigo's first album, SOUR, began primarily through the popular social media platform Tik Tok in 2021. Rodrigo announced the release of her first single as a solo artist, "drivers license", with a video on her Tik Tok account. The video immediately went viral, amassing over 11.2 million likes to date.
As her first single as an independent artist, "drivers license" debuted on top of the Hot 100 and held the number one position for eight consecutive weeks.
As fans listened to Rodrigo's pop-ballad of heartbreak, they began to speculate who the song might be about. The song grew in popularity as fans became invested in the theory that the song was about Rodrigo's co-star in High School Musical: The Musical: The Series, Joshua Bassett.
The alleged situation between Rodrigo and Basset became even more complicated as paparazzi reported on Basset being seen on a date with actress and musical artist Sabrina Carpenter. The idea of a love triangle between the celebrities created even more excitement about the next two singles she released, as fans became hungry for more insight on Rodrigo's perspective on the scandal.
The next two singles Rodrigo released preceding SOUR, "deja vu" and "good 4 u", also dominated the charts. "Deja vu" peaked at number three, while "good 4 u" claimed the number one position on the Billboard Hot 100 for a week.
By the time Rodrigo released SOUR, she was already a worldwide sensation at the age of eighteen. With her fresh approach to pop music and lyrics that deeply resonated with her teenage audience, no one was surprised when Rodrigo received seven nominations for the 2022 Grammy's Award Ceremony.
Rodrigo walked away with three wins, including best pop album of the year for SOUR. Additionally, she made history as the first female artist "to have three solo tracks on a single album reach a billion streams on Spotify".
From SOUR to GUTS: Olivia Rodrigo's take on girlhood
SOUR is an album that revolves around the exploration of first love, heartbreak, and the complicated aspects of teenage girlhood. Written by Rodrigo when she was between the ages of fifteen and eighteen, the tone of the album is innocent, yet introspective.
While "drivers license" and "good 4 u" remain the most popular songs on the album, Rodrigo doesn't only sing about romantic relationships (or the lack thereof). For instance, in "jealousy, jealousy", Rodrigo addresses the toxicity of social media as it relates to self image.
Altogether, Rodrigo represents the experience of the "teenage experience" in an authentic and effective manner. From the rage of "good 4 u", the shame of "favorite crime", and the acceptance of "enough for you", SOUR remains a special album in the hearts of teenagers everywhere.
"It really is an album for teenagers. It really embodies the experience of a teenage girl with relationships and not always feeling good about yourself," said Elena Wragge, seventeen-year-old fan of Rodrigo since her debut two years ago. "I think it's very powerful."
GUTS on the other hand, is a radically more mature album than SOUR. Written by Rodrigo when she was between the ages of eighteen and twenty, Rodrigo creates a chaotic collection of tracks that are torn between the difficulties of adulthood and the loss of childhood.
The first track on the album indicates how Rodrigo is moving away from the collected, organized style of SOUR and taking on a more tumultuous sound. Starting deceivingly soft, the song descends into a cacophony of screams and erratic drum beats before recovering and ending on a gentle beat.
The structure of "all-american bitch" sets the precedent for the rest of the album. Alternating between regretful, sickly-sweet ballads and up-beat anthems of rebellion, Rodrigo's transition of musical style represents her transition from girlhood to adulthood.
Throughout GUTS, Rodrigo sings about her adult life with lyrics hinting at getting drunk, going to clubs, and partaking in casual hook-ups. Despite her carefree behavior, the album contains a contradicting hum of discomfort as Rodrigo expresses her discomfort with herself.
The third track on the album, "lacy", displays this vulnerability. Throughout the song, Rodrigo sings about her infatuation with a woman that she painfully compares herself and the self-loathing that results from this idolization.
Ooh, I care, I care, I care
Like perfume that you wear, I linger all the time
Watching, hidden in plain sight
And ooh, I try, I try, I try
But it takes over my life, I see you everywhere
The sweetest torture one could bear
…
Lacy, oh Lacy, it's like you're out to get me
You poison every little thing that I do
Lacy, oh Lacy, I just loathe you lately
And I despise my jealous eyes and how hard they fell for you
Yeah, I despise my rotten mind and how much it worships you
"Lacy" is believed to be about Sabrina Carpenter, the actress involved in the supposed love triangle with Rodrigo and Joshua Bassett. The allegation is almost undeniable after Rodrigo refers to "Lacy" as a "Bardot reincarnate". Carpenter has been known to recreate photos of the 1960s actress Bridgette Bardot.
The addition of "lacy" to GUTS indicates that despite Rodrigo singing about being involved with other men, she may still be healing from her relationship with Joshua Basset that inspired most of the tracks on SOUR.
This inference peels back the top layer of carelessness that coats GUTS to reveal a narrative of a girl that is stuck on the passing of her teenage years. Suddenly the seemingly mature image of Rodrigo outfitted in a push-up bra and bright red lipstick on the cover of GUTS appears as a cover-up for how she really feels.
The truth of Rodrigo's emotions is wrapped up by the last track on the album, "teenage dream". Rodrigo sings about the fact that she feels her identity lies in her youth and expresses her worry that she grew up too fast.
When am I gonna stop being wise beyond my years and just start being wise?
When am I gonna stop being a pretty young thing to guys?
When am I gonna stop being great for my age and just start being good?
When will it stop being cool to be quietly misunderstood?
I'll blow out the candles, happy birthday to me
Got your whole life ahead of you, you're only nineteen
But I fear that they already got all the best parts of me
And I'm sorry that I couldn't always be your teenage dream
"Teenage dream" punctuates Rodrigo's evolution as an artist by highlighting her ability to string together her powerful vocals with intensely introspective lyrics. By concluding her sophomore album on such a vulnerable note, Rodrigo is able to intimately connect with her audience in a way that makes the emotions she expresses throughout GUTS vastly authentic.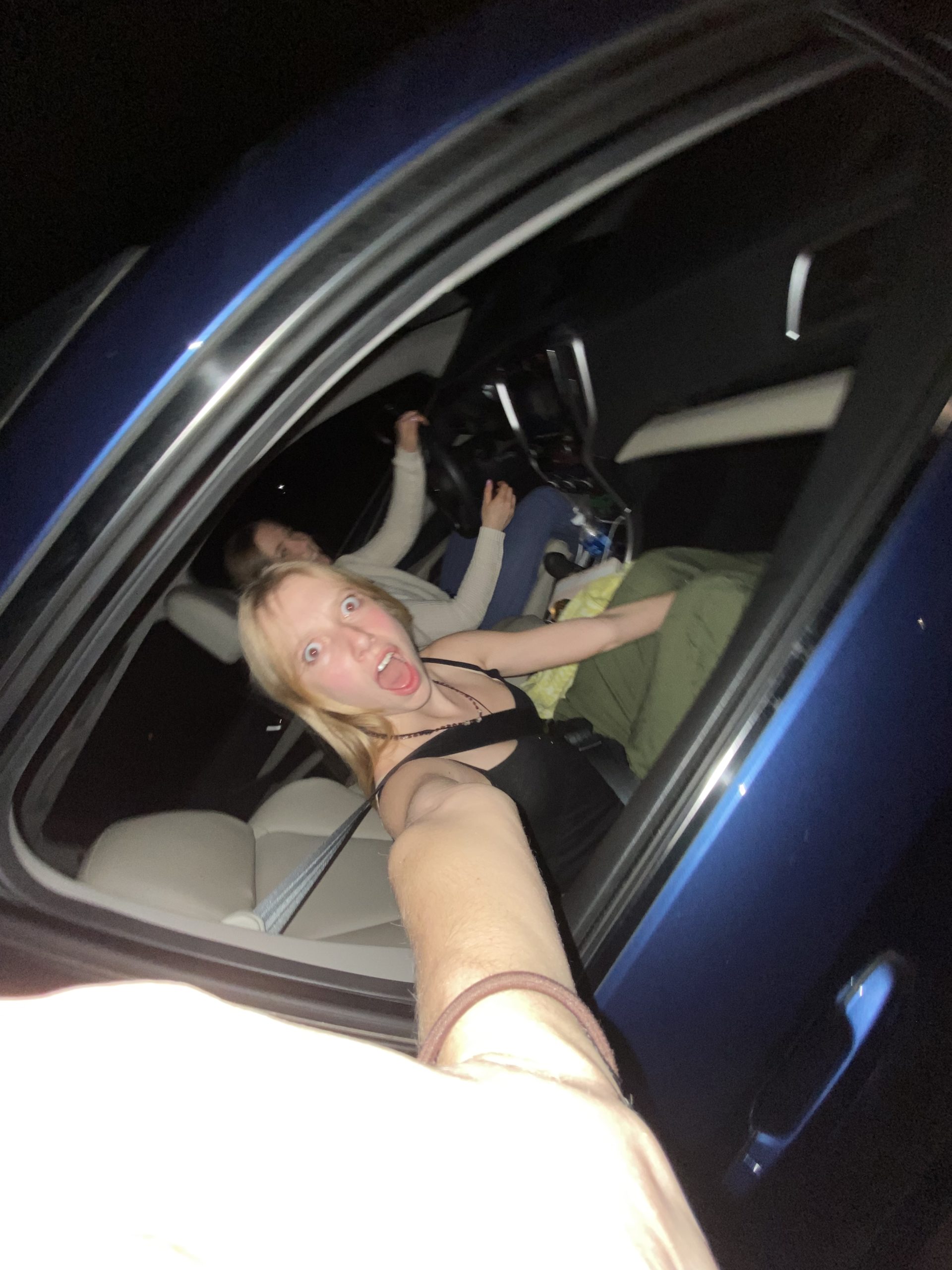 Hi, I'm Clara. I'm a co-founder of Leesville's Earth & Sustainability Club and a Varsity member of the Track & Field team.