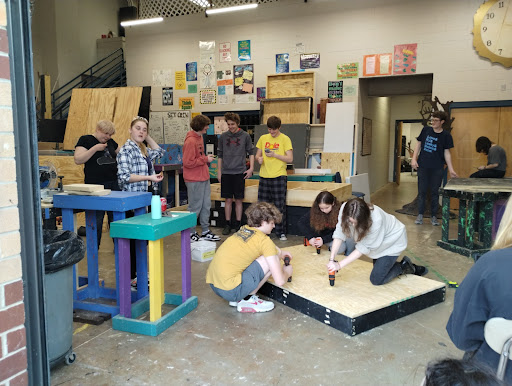 Leesville's play crews have begun working together to create Leesville's 2023 musical: The Sound Of Music.
Students working on the non-acting parts of performances for LRHS work in different groups, called crews, which meet during different times every week. Each crew dedicates themselves to a different aspect of the play's production, from creating and painting the sets to managing costumes for the actors.
Students who don't know how to work on their crew when they join learn the necessary techniques and skills from their crew heads and fellow crew members. Though some crews have not yet started the bulk of their work, many crews began meeting after January 31, 2023, when students first signed up. 
Crews will continue to work on the performance until the musical is finished.
Paint Crew is the crew in charge of painting the sets. Erica Ostling, junior, who works as one of the crew heads for Paint Crew, said "We are currently working on teaching the crew [painting] technique[s] and trying to get our [paint] colors approved [to be put on the set for the musical]."
Lights Crew is in charge of organizing lighting for the performance. Joseph Dunatov, senior, who works as one of the crew heads in charge of Lights Crew, said "A lot of [lights] is, like, physical stuff… taking a light down, fixing a light, changing out lightbulbs, that type of thing."
"Once we get to the actual show [a lot of what we do is] program the lightboard and… [train] our… crew members. I'm graduating next year, so I need kids to do stuff after me," Dunatov said.
Set crew is in charge of physically building the sets for the performance. Sean Pyon, junior, who works as a member of set crew, said, "What I… last left working on was some stairs for the pit. We had to make them OSHA compliant by adding railings to them."
Anyone who wishes to see the results of the tech crews' efforts should go watch The Sound Of Music, which students will perform here at Leesville from April 19th-22nd.
Hi, I'm Blase. I like playing video games and running in my free time, and I have two cats.