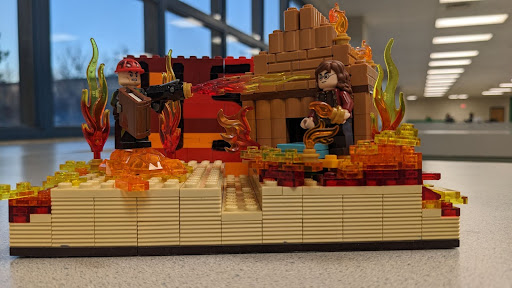 We have all heard names such as Tony Taylor, or Braxton Barros, but Lucy Johnson, freshman, has done some equally exciting things. Johnson is a Lego fanatic; she loves making Lego sets from her own mind and instruction booklets.
Many students and people around the world like to make things to show "hey, I am here," and Johnson makes her mark with Legos.
 "I like to create [Lego sets] because it helps me grow as a person to get what I have in my mind out and [it]  just gives me this amazing feeling. I like building Legos because I like to take any idea from my imagination and just create these different visions, and then I can display them. I like the feeling that this is going to make other people see it will bring them joy."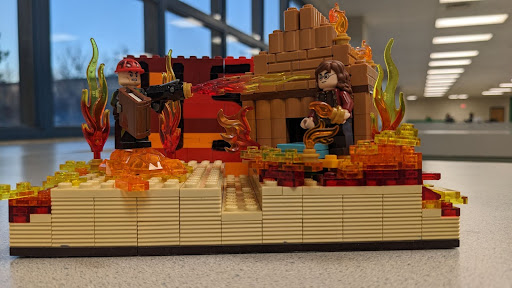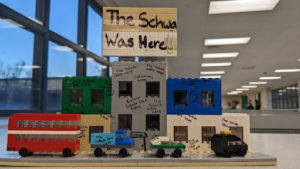 "Currently, we have started a new play in English, and I am working on a structure to represent [A Raisin In The Sun]. I am building a row of apartment buildings, one of them you're going to be able to lift up and look inside everyone looks as if they are going crazy, in the background it is going to be a lava or fire brick thing that says 'or does it explode'," said Johnson. 
Johnson has a favorite Lego set. "My favorite Lego set is the Disney castle because I am a big Disney person. I have been collecting all of the Disney sets, I have them all displayed. I like the Disney castle because it was a lot more work then previous Lego sets. There were a lot of specific things that I had to do," said Johnson. 
Johnson mainly uses normal size Lego pieces, but she will also use nano. "[Nano] are very tiny Lego pieces. Instead of building a set with people you would make a statute of [something smaller] like a dog," said Johnson.
Ways to Make Lego sets
Johnson likes both Legos with instruction and without instructions. "[No instructions] allows me to use my creativity. In The Lego Movie, Emmet uses instructions not only to build stuff but for life. It is very important that we let out our creativity because it helps us grow as people rather than just building the same thing,"said Johnson.
"I find that it is a lot more fun for me to create things by myself than to just build them because when I just build them the pieces are all set out for me, and I can just build it in two seconds. When I have to actually think about it, it helps me grow and further develop my brain for future Lego sets and projects I might work on," said Johnson.
Personal Life
Lucy Johnson has a friend that knows her exceptionally well, Georganne Brothers. "I met her about 5 years ago for the first time. I actually became friends with her in the 6th grade, but then Covid happened, and we did 7th grade online and that is when I really started to get close to her," said Brothers.
"My little sister goes to the same dance studio as Lucy. My sister is younger than me, so my mom told me in 5th grade to go make friends with Lucy, so I could Interact with someone my age at the dance studio. I do not go there, but I am at all of the performances," said Brothers.
"She really likes doing creative things; she enjoys art, dancing, and reading. [Lucy] is really good at making friends with people and I think that is what drives her to branch out into different creative forms," said Brothers.
Hi am Ben, I am a Staff writer here at the Mycenaean. I am also a Curler and a part of Model UN