"These CTE classes are very important, we are trying to prepare students for real life skills, other than just studying and you know, learning from a book or a computer. In these classes they actually do hands-on activities that are relative to what they would be doing in a field and earning a living," said Mr. Miura, Carpentry and Construction Core teacher at Leesville.
 "That's why I really stress these classes because we need more classes that involve real hands-on activities. I'm a little biased, but I do agree CTE classes are super important, whether it's construction, apparel, foods, doing something you can apply to your future and make money."
Construction Core/ Carpentry
Mr. Miura teaches two classes at Leesville — Construction Core and Carpentry. Before students can advance in Carpentry they have to pass the core construction class which covers the basics.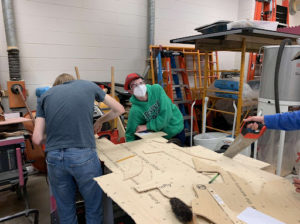 Pictured are students in fourth period Carpentry class making either locker plaques or cutouts of North Carolina state. (Photo courtesy of Amelia Collado)
"Everything in construction — reading blueprints, measuring, cutting, assembling, safety, they learn all that in the basics before they progress," said Mr. Miura. "When it comes to career paths in this class here students can be in construction, trading, engineering, architecture, you name it, skys the limit…carpenters, project managers, you can go anywhere. But anything they do  will involve the basic core skills they learn here."
Adobe and Digital Media
Mr. Goble is the Adobe and Digital Media teacher here at Leesville Road High School. 
The classes for this particular subject are split into three different parts. The first class students take is Adobe Visual Design, where they learn basic Photoshop, Illustrator, and Design applications. Next, students can choose Adobe Video Design — a video production class — or 
Adobe digital design, where students learn how to code websites.
"In each class students learn the hard skills of being able to use the software, and being able to get certified in the adobe photoshop program. But they also learn technical literacy, being able to critically think and creatively solve a problem, so when they are creating a product they have to follow tutorials but they also are making projects from scratch," said Mr. Goble
"I feel like CTE classes give students a little bit of a taste of the real world, they get to see a lot of skills that they might not be able to see in a traditional academic class. We're teaching them how to be graphic designers and videoographers. In a business class, they're learning about business practices that could be helpful going into any business setting in addition to managerial skills. A lot of hands-on skills is what CTE classes definitely offer. There's a lot more projects and experience VS just theoretical knowledge," he continued.
AP Computer Science Principles
Another CTE course at Leesville Road that would be perfect for a student interested in computers is AP Computer Science Principles. This class is an AP (advanced placement) class, meaning if students take this course, they can not only earn up to a 5.0 grade average, but also take the AP college exam and earn college credit. This makes this course differ from all other CTE classes — all other classes in this program are either academic or honors.
"The students learn the introduction to computer programming, and they design apps while preparing for CollegeBoard," explained Mrs. Boyd, the AP Computer Science teacher at Leesville. "One cool thing in this class is students learn how to program apps and they can put them on their phones and share them with their friends."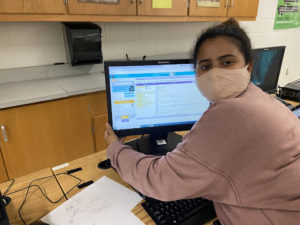 Jeslyn Camilo, 11th grader at Leesville, completes a lesson on code.org on how to debug a program so her app she is working on can function. This takes place in her fourth period AP Computer Principles class. (Photo courtesy of Maddy Winick)
"In general, career tech educational courses, they prepare students for the real world of work based on the soft skills and technical skills learned in these classes. Soft skills are how to communicate in a work environment," said Mrs. Boyd.
Internships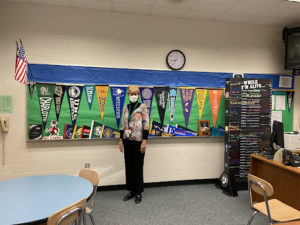 Mrs. Canada (room 102) is Leesvilles Career Development Coordinator (CDC) as well as the head teacher of the National Technical Honors Society (NTHS). She is in charge of connecting students with internships.(photo courtesy of Maddy Winick)
"I think it's great for students to explore CTE classes while they're in high school so they can find what they're interested in as early as possible. Taking CTE courses and taking internships this early will help students figure out exactly what they're interested in and what they aren't," said Mrs. Canada. 
"Participating in an internship forces students to have to navigate themselves through the 'adult world' when they are placed in settings such as doctors offices, hotels, lawyers offices, building corporations, etc. It gives them an idea of what kind of environment they can see themselves in in the future. A student could end up loving a career they didn't know they would," said Mrs. Canada.
If a student is interested in internships, they can take their internship their junior or senior year. 
"I recommend students to do their internship senior year. Many students have done theirs in junior year and told me they regret it because their junior year was so hard schoolwise," said Mrs. Canada
An internship takes up one semester, with a total of 135 hours of work experience throughout the internship experience. This is equal to about seven or eight hours a week. If a student is interested in a certain subject or internship, they should meet with Mrs. Canada the first week of the semester, where she will give them paperwork and get their liability insurance. The following week the student will start working. The internships are for a grade though — a student will keep up with a weekly journal prompt. About halfway through the semester, Mrs. Canada will visit the place they are interning.
Internships will give the student an honors credit and it will look great for college applications and in their future when searching for jobs. "CTE classes here are what give students the interest and passion to come to me looking for an internship," said Mrs. Canada. "I had a student who loved sewing and design. She could sew anything — she took all the interior design and apparel classes offered at Leesville. I found her an internship at Raleigh Little Theatre where she ended up designing all the wardrobes for every actor in their 'Jack In The Beanstalk' play. She got into NC State design school and told me that her internship she took part in played a huge role in her getting accepted to State and she definitely would've not if she did not take the risk into following her interests."
Lots of people do not have information on the CTE classes offered at their own school. So be ready, your future career path could be right around the corner. There are plenty to choose from so do not worry about not being able to find one that could capture your interest. Click here for all the NC specific CTE Pathways.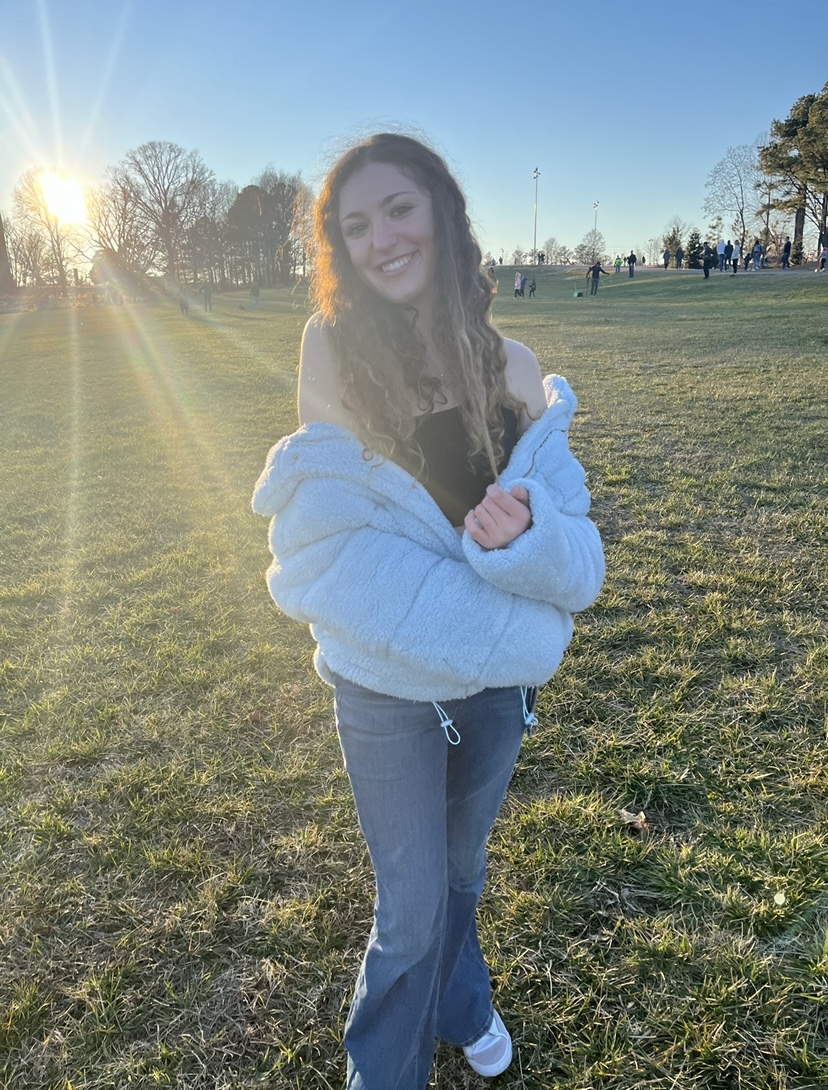 Hi! My name is Maddy and I am a staff writer for the Mycenaean. I love to travel, watch sunsets, and listen to music.