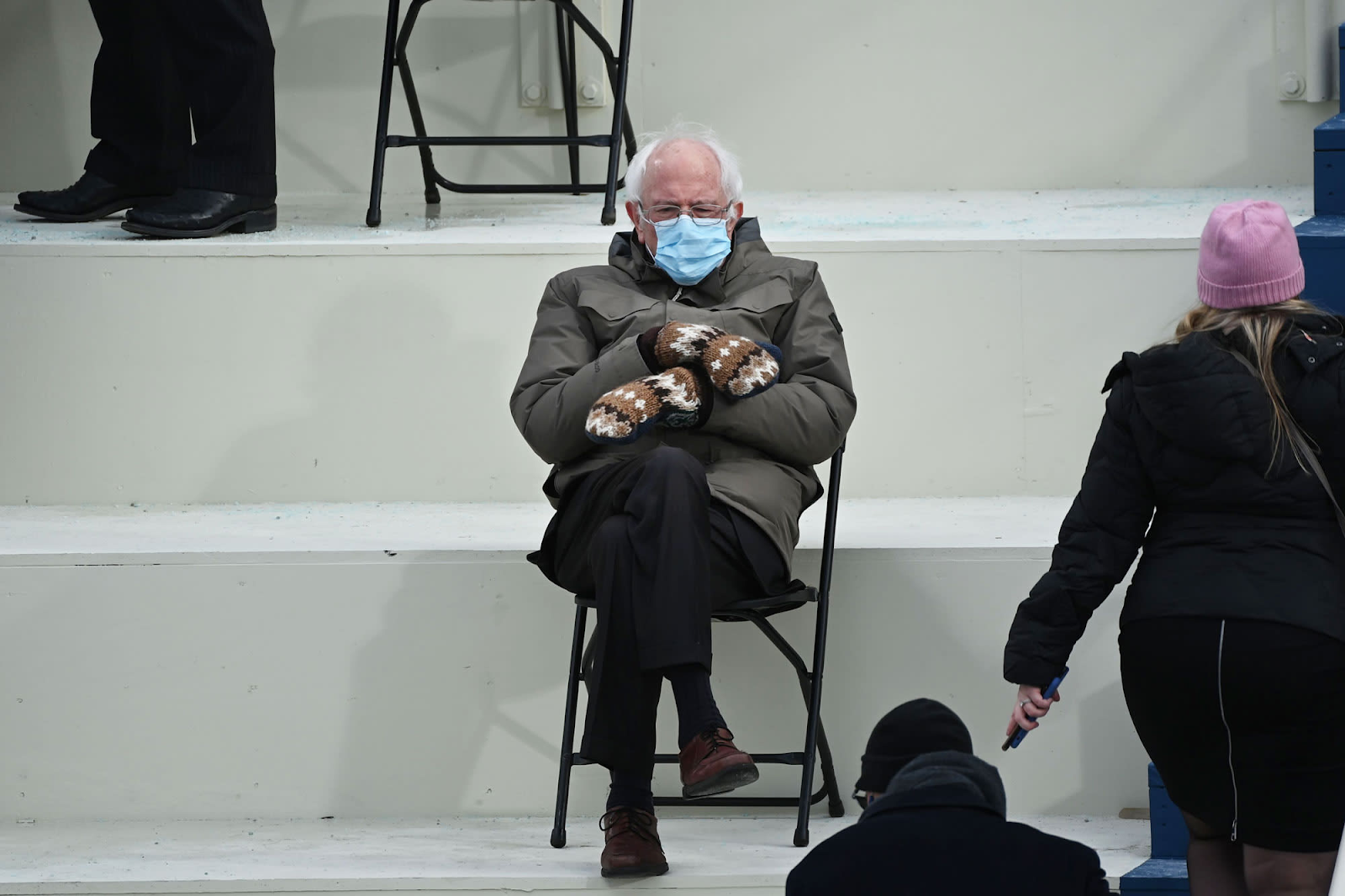 A picture of Bernie Sanders taken at the inauguration of Joe Biden in Washington DC (Photo Courtesy photo domain)
Wearing a winter coat, a mask, and mittens, Bernie Sanders watches the presidential inauguration of Joe Biden at the United States Capitol in Washington DC. 
The presidential inauguration on January 20, 2021, was a historical day for many reasons. One reason being a viral meme of Bernie Sanders, a Vermont senator, that has taken over the internet. 
Brendan Smialowski is the photographer who captured this photo. It shows Sanders with his arms and legs crossed while wearing a big winter coat and brown patterned mittens. The Senator looks quite miserable, while also comfortable.
Now, all over social media platforms, people are photoshopping this cut-out of Sanders into other pictures.
Despite this not being the first time he was caught in a meme, Sanders reacted well. When  virtually joining Late Night with Seth Myers on NBC, Sanders jokingly noted that he was "just trying to keep warm." 
Sanders also notes on CNN that he is using this attention to sell "Sweatshirts and T-shirts" and is donating the funds raised to "programs like meals on wheels that feed low-income senior citizens."
Not only is money being raised for charity, but there has also been a monumental interest in buying mittens similar to Sanders.
Jen Ellis, a school teacher in Vermont, made these mittens. "Thanks for all the interest in Bernie's mittens!" Ellis wrote on Twitter after receiving so much attention. She also informed her Twitter followed that she had "no more mittens for sale," but that she was "so flattered that Bernie wore them to the inauguration." 
In addition to Sanders and Ellis, many people with a large social media presence reacted to this meme. Whoopi Goldberg, Guy Fieri, Demi Moore, Jennifer Grey, and more all created memes of their own and shared them on the internet.
This meme seems to be reaching all types of people on social media — after all, there is no better way to bring people together during a transfer of power than a meme.
Hi! My name is Mary. I'm the engagement editor for The Mycenaean. I am a member of the Leesville Symphonic Band and I have 3 dogs!