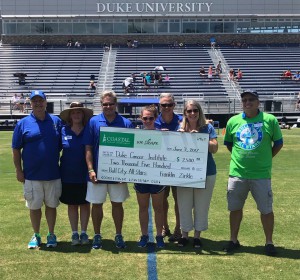 On June 3, five Pride senior lacrosse standouts were selected for the Bull City All-Star games in Koskinen Stadium at Duke University. The top senior men's and women's lacrosse players from across North Carolina were nominated and chosen to star in the respective games.
This was the inaugural year for the Bull City All-Stars: Cullen Classic for Cancer games. The occasion serves to honor the late Tony Cullen, a former head lacrosse coach for Duke, as well as support the Tony Cullen Memorial Scholarship Fund and the Duke Cancer Institute.
In the weeks leading up to the games, coaches from around the state nominated their best seniors, but only the best of the best were chosen to compete in the all-star games. From the Pride women's team, Lindsey Bateman and Tyler Mae Stempien were hand-picked, while Nolan Brunick, Charlie Caufield, and Jack Walton were selected from the men's team.
"It is an honor to be selected for the Bull City Classic. I have put so much time into lacrosse that it is a great way to end my high school career," said Walton.
In the women's all-star game, Bateman represented the white team and Mae Stempien represented the blue. Ultimately, the white team would win in a landslide, 20-9. "It felt absolutely incredible. Being given the opportunity to represent my school, while playing the sport I love, for an amazing cause is a once in a lifetime opportunity so it was really special," said Bateman, via text.
Between the women's and men's all-star games, the "GRAY DEVIL'S" game was held. Former Duke lacrosse players had not only returned to celebrate the new event, but compete in an alumni game. The blue team was victorious over the gray team 12-7.
To culminate the day, the men's all-star game provided an overtime thriller. Brunick and Walton competed for the blue team, while Caulfield played for the white. Brunick opened up the game with a goal and the blue team held a consistent lead up until the dire minutes of the game. With the score at 12-12, the game headed into overtime. Finally, with 31 seconds remaining in the sudden-death overtime period, the blue team netted a shot to win the game.
With the last game coming to a close, many doors had also closed on the lacrosse careers for many of the decorated seniors. "It was bittersweet that I will not play again, but I am sure that I will find a way to give back to the sport," said Brunick.
Ultimately, the event raised over $2,500 for both the Tony Cullen Memorial Scholarship Fund and the Duke Cancer Institute. With the opening event under its belt, the event hopes to continue its growth and success in the future.