For the first full week of the regular season, we followed every move of the Leesville Men's Varsity Basketball team. From the high-energy drills of practice to the prime-time plays of the game, every moment was observed from a behind-the-scenes perspective.
Read through the online edition of our feature, from page 15 of Monday's printed newspaper, below.
Monday, 4:57 PM. As the locker room door swings open and the 12 members of the Leesville 2013-14 Mens Varsity Basketball team flood into the gym, the air is markedly filled with chatter and laughter. Groups of players joke among themselves as they bounce basketballs and begin warming up.
The lighthearted mood is far from the stereotypical beginning to the regular season's first full week, which will test each player's greatest endurance with three games in the ensuing four nights.
But, as the next week will make blatantly clear, the Leesville basketball team isn't one to adhere to stereotypes.
The Coach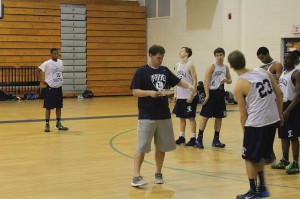 After a casual shoot-around transitions into an organized warm-up, Russ Frazier, head coach, gathers the team around for a huddle. The players focus yet maintain their cheerful spirits; the remaining 150 minutes of drills are meant to be tiring and challenging but not disheartening.
Later, a simple out-of-bounds save attempt expands into a full team lesson. "[There are] two things about saving the basketball," instructs Frazier. "Don't throw it this way [towards the basket], and…secure it with two hands."
Frazier is the exact opposite of the ideal image of a strict veteran coach. He's also the perfect coach for a Leesville basketball program he's almost singlehandedly revived.
Frazier's boyish relatability and merry sincerity gives him each player's absolute trust from day one on. His players seem to enjoy practice more than talking with each other, more than goofing off, more than their time outside of the gym. The phenomenon is so remarkable that the team's success has taken on a nearly surreal aura.
"If you want to be successful at anything," he says, "you have to get along with people, you have to communicate. It's a team thing. That's what we do, and we believe it brings us success."
In his debut season last winter, Frazier led the Pride to a 16-7 regular season — their first winning campaign since 2005-06. The former Northwood (Pittsboro) High coach was blessed with some great players, but his refreshing attitude was most responsible for Leesville's drastic program turnaround and attendance spike.
Yet, after spending a minute, or an hour, or a day, with him, you'd never sense one bit of arrogance.
The Players
Frazier's friendly instruction continues as practice moves along. "You've got to stay inside," he says to a player standing in the 'paint' — the rectangle in front of the free-throw line under the basket. "[If] you go outside…you give them path right to the basket."
The team must continue to work on their down-low physicality to adapt their dynamics to Frazier's strategies. This winter's squad is younger (featuring three freshmen) and smaller than almost all of their opponents, yet they still hope to employ a defensive, slow-paced style.
Being among just four seniors, captain Brandon Staves carries a great responsibility for the season ahead. Judging by his easygoing personality and open conversationalism — even with an athletically pathetic visiting newspaper reporter — that duty is handled with ease.
"I think we're a lot better than last year in many ways because we've got better basketball players in general," Staves says. "We're inexperienced, but we've got to [get] all the younger guys up to our level right now, so we can be ready when we play teams…with a lot of experience."
For all of Staves' evident leadership, however, Leesville's 2013-14 squad may need Sanders Rohs, senior, most of all. The long-distance shooting specialist is the principal trigger-man from three-point range and the catalyst of most momentum runs.
"It's a mixed group, but I think we're looking good so far," Rohs says. "We're just trying to get closer as a team, working better…[to] just sort of gel."
Both Staves and Rohs are introduced to loud cheers at the opening tip-off of the following Tuesday's game against Apex. But a pair of stars with slightly different perspectives — freshmen Alex Hunter and Jonathan Mebane — are also announced alongside them in the starting lineup.
Neither try to conceal their lack of experience with the team, but both look almost fully comfortable wearing the blue and green on the court.
"I think we'll be better once we learn to play together," says Hunter.
"Chemistry is just something that comes along with experience with playing with each other," echoes Mebane.
Frazier also needs Ben Zemonek, sophomore, and Greyson Kelley, junior, to boost the team's physical potency.
Zemonek, who also received significant playing time on last year's team, has already reached veteran status despite his age. "We're lacking size, but I think we can grind it out," he says. "We've got a lot more freshmen than we did last year, so they've got a bright future…we're going to be solid when they're older."
Kelley, meanwhile, is expected to fill the sizable shoes of now-departed 2012-13 power forward Shyheid Petteway. "I expect us to be better than last year; we've got a good veteran group," he says. Not one to ramble profusely, his justification for that declaration was simple: "Good communication."
Role players like Jethro Bajani, junior, and Douglas Elks, freshman, fill valuable niches, as well. Bajani's free-throw expertise, on show so far this season, aids a team which proved unreliable at the line a season ago. Elks' height helps add much-needed short-distance shooting ability.
The Atmosphere
Next up on Monday's practice agenda falls a five-on-five scrimmage: a handful of offensive players pass the ball around the edge of the three-point line. An equal number of defenders guard them with fervor — and not just physical fervor. In a twist almost perfectly fitting with the team's communication-heavy style, all five defensive players attempt to emulate crowd-like situations by yelling all kinds of gibberish.
However, Staves isn't fazed. He swishes a three-point shot at one point, then shrugs — he wasn't supposed to be shooting at all. "You practice like you play," he says, "so we try to bring the same intensity from practice into the game."
The average practice, regardless of its lighthearted aura, packs two and a half hours with intense drill after intense drill. Each player is both engaged and worked to the fullest reasonable extent.
"We practice [at] game-speed and game-like situations, so there's barely any confusion when you get out there in the real game," explains Mebane succinctly. That clear understanding of the practice's purpose doesn't mean he won't be exhausted by evening's end, though; instead of tiring players with needless sprints and exercises, Frazier uses every ounce of his players' energy to work on realistic plays and situations.
Nonetheless, the theme of communication is not lost. Every drill engages talking in some way or another, whether to call for a "back pass" or to distract the player dribbling the ball. "So we're ready for the game, we're always talking," says Kelley.
"The game is upbeat — you're going back and forth, back and forth, you're not stopping that much — and that's what we try to do in practice," elaborates Zemonek.
The Results
The ensuing week of games follows the tune of Monday's practice: tiring, turbulent and largely positive.
Thanks to 11 fourth-quarter free throws and Rohs' team-leading 18 points — including four three-pointers — Leesville rallies from a 10-point deficit with six minutes remaining to beat Apex, 47-43, in their home opener. It's exactly the kind of defensive dogfight Frazier loves to see; "These kids flat-out played hard and everyone started pulling for us," he says in recap.
The next night, conversely, the fatigue of Tuesday shows through and a dagger of doubt is hurled towards the team. Leesville comes up short in the final minute and loses a 60-59 heartbreaker to middling Smithfield-Selma. "We got into a track meet instead of a basketball game," says a highly frustrated Frazier.
That exasperation explodes in Thursday's practice. The night begins and ends the same as always — cheerful, talkative and sweaty — but it takes only a moment of anger to convey the need for improvement.
In the midst of a defensive guarding drill, Frazier erupts. "So here's what's happening, so you're guarding him, blah blah blah…Why didn't that happen last night?" he shouts. "There was a big crowd in [the paint] and no one wanted to get near them, and we didn't play transition defense!"
One minute later, everything is back to normal. Yet the point most certainly got across.
That's the second beauty of Frazier's generally happy-go-lucky personality.
The following night, Leesville makes the lengthy trip to Green Hope and trots out hours later with their confidence restored. Mebane tallies 13 points, Staves adds 12 more and the defense regains its impeccable form; the Pride defeat the Falcons, 54-41.
The week concludes on a positive note for the team, which remains in high spirits for the win and the weekend ahead. They're just 48 hours from starting the process all over again, though, and many would expect the excitement to soon die down when the prospect of hard work kicks in again.
But that's not the case. The following week begins just as playfully as the previous week did, and the Pride continue to build chemistry and experience for the season ahead. "It's a kids' game," says Frazier, as full of enthusiasm as always.
"If you're not having fun, it's not worth playing."
Dave Nyamu, staff writer, also contributed to this report.