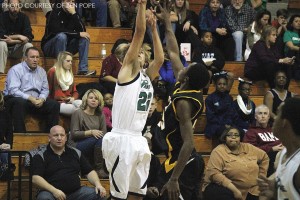 The Leesville Mens Varsity Basketball team beat Apex for the second time in two weeks Tuesday, scoring 16 of the game's final 18 points to capture a 47-43 victory.
Trailing 41-31 early in the fourth quarter, the Pride exploded on a 13-point run to capture their first lead since the beginning of the second quarter with less than two minutes to play. Leesville, after struggling at the free throw line for much of the night, made 11 of 14 free throws in the final frame to spark the scoring streak.
Sanders Rohs, senior, led the team with 18 points on the night. His four second-half three-pointers helped to switch the momentum in the home team's favor.
Brandon Staves, senior, added 12 points, including four crucial free throws in the closing minutes.
As the fourth quarter began, it was Staves cringing after a travel call helped the visiting Cougars extend their lead to double-digits. Just 20 minutes later, though, he was celebrating the exciting win with swarms of the rowdy student section.
"We just picked up the intensity, started getting defensive rebounds, stops on D," Staves said, "and we just took it slow on offense — executed and made our free throws."
Leesville led 8-7 after a sloppy first quarter, but Apex scored 10 of the second quarter's first 11 points and led 19-16 at halftime. They extended their lead to 35-30 after a fast-paced third quarter and then to 41-31 with about six minutes left before the walls caved in.
Russ Frazier, head coach, coached animatedly, calling plays with fervor minute after minute and helping to pump up the crowd during his team's comeback. When asked about the keys to the Pride's win, he listed "Execution, defense and grabbing rebounds."
"Playing hard inspires people," he said, "and these kids flat-out played hard and everyone started pulling for us. The momentum went in our favor and really helped us."
The victory improves Leesville to 2-1 early in the 2013-14 season, having won at Apex 54-44 and lost at Greensboro Page 60-43.
"We just wanted to make our fans happy, wanted to stay undefeated at home, didn't want to go under .500," said an enthusiastic Staves. "[We] just wanted to make a statement again and we did it."