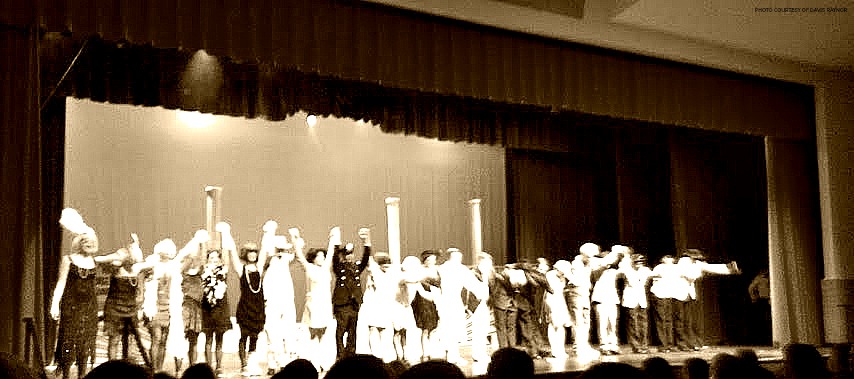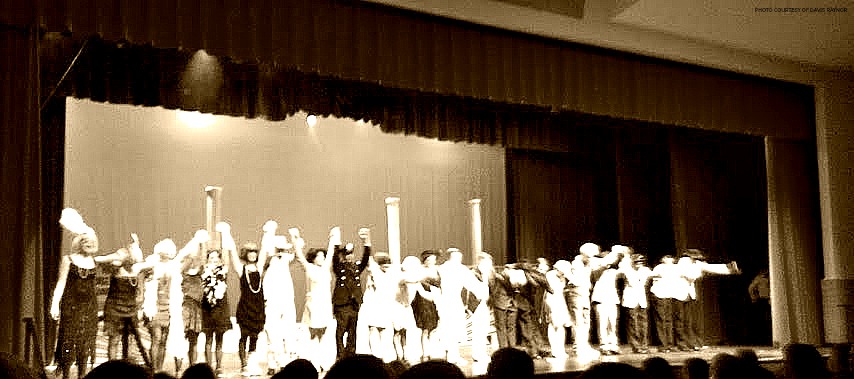 The lights dim, the jazz-age music commences, Jake Banasiewicz takes stage right as the iconic Jay Gatsby. The Great Gatsby begins.
Running last Thursday through Saturday night, October 31 to November 2, with a preview night on Wednesday October 30, The Great Gatsby took center stage at Leesville. The music was on point, the dancers incorporated a perfect balance of drunkenness and flapper-style moves. The acting was amazing.
From the beginning, Ian Klug, junior, stole the show as Nick Carraway. He maintained the ideal amount of awkwardness that the character has, while still intriguing the audience. Looming on the other side of the stage stood Jake Banasiewicz, junior, who played Jay Gatsby. His dark manner never faltered, and his nerves provided the ultimate platform for a disheveled and often high-strung Gatsby.
Delivering a performance with an angelic voice, Tatianna Shumoski, junior, brought nothing less than what the audience expected. Her poise was a strong contrast to her character's internal malicious nature. Even as she stepped over Gatsby's dead body at the end of the play, her grace continued.
While the deliverance was great, the script itself was somewhat confusing. As a junior that has read The Great Gatsby, the play made sense. I followed it well, and I was awaiting every move. However, if I hadn't already been in love with the story, and been so familiar with it, I'm not sure it would have been as enjoyable. It moved quickly, and the jazz band, while entertaining, often drowned out the voices of the actors and actresses. Whether the performers were just intently focused on the delivery of each line, or it was simply how the story translates on to  stage, for those unacquainted with the story, the show may have been dense.
Additionally, for those who weren't center stage in the first few rows, the dialogue was fuzzy. The various party goers and dancers were funny, but distracting. While individually all of the happenings on stage were amusing, together on one stage it was too much.
Nonetheless, in every show there are potential changes. Compared to the last few plays, The Great Gatsby was engaging. The costumes were well designed, and the acting was on point. The overall performance was very enjoyable and it is clear the level of dedication and practice was high.