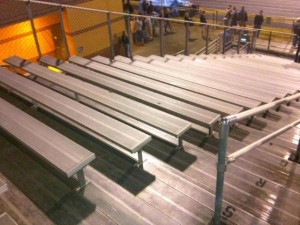 Opposing teams used to fear two things when they marched into Hamilton Stadium on Friday nights: Losing and Loonies. Now-a-days, they only fear the Berrios brothers. Loonieville has lost that signature passion and spirit known across the state.
This past Friday was the biggest game of the season. Leesville hosted CAP-8 rival, Wake Forest-Rolesville, for the conference title. Seniors faced their last regular season home game and an impressive 9-1 Cougar record.
The lights were shining on the newly painted field and fans packed stands on both sides. I thought it was going to be difficult to find a seat until I reached Loonieville. From the sidewalk, it seemed packed. However, the stands were quite empty near the top.
The back four rows remained unoccupied throughout the entire game. In the old days, this was unheard of. Finding a seat three years ago was virtually impossible.
The lack of occupancy seemed understandable after the school suffered a ten percent loss of students this past year. It all made sense until the game started.
Loonieville was a loud and proud section at kickoff. Students fell silent, though, once star quarterback Austin Berrios walked off with an injury on the return. It was a respectful move to stay quiet, but it lasted too long.
Wildcat quarterback, Malcolm Hitchcock, replaced Berrios under the center. A young and inexperienced Cooper faced off against the impenetrable Cougar defense. I could not even begin to imagine the amount of pressure on his shoulders before he took the first snap.
The crippled offense needed the support of their parents, their teammates and their Loonies. All I heard, though, were Rolesville cheers…over the thousands of Leesville fans. It was a sad sight.
The proclaimed loony Loonieville was far from loud. Students lost interest in the game quickly. I noticed many Loonies drifted between conversation and the occasional holler. Students reduced the section to a low roar.
At one point, I looked over to see a partying group of parents pounding out more decibels. Loonieville lacked the one thing that made it famous: school spirit.
Two past Loonies attended Friday's game in hope to relive the high school fan experience once again.
"Everything seems to have fallen apart after only a year gone," said Eric Blevins, graduate.
Cory Scheviak, Leesville graduate, also recalls the "Golden Ages" of several years ago.
"Back in my days as a freshman, you couldn't even hear yourself think," said Scheviak. "Loonieville was deafening and packed tighter than sardines in a tin can. It's just a shame to see what has happened to the football fanbase."
As a kid who grew up only a mile away from Hamilton Stadium, I knew it was a futile effort to try and sleep on Friday nights. I heard the Loonies of years past from my bedroom.
I have noticed a deflation in school spirit throughout the entire season.
In an inspiring attempt to boost support, one adult decided to take matters into his own hands. This man, probably twice the age of the students, walked over to Loonieville and demanded more spirit and enthusiasm from the students.
"It was really helpful to get that extra kick we needed," said Tyler Behrends, junior. "I think it woke us up from the shock of losing our QB, but we shouldn't need stuff like that to get us pumped."
Many Loonies responded with several short rallies. While not incredibly loud, the student section showed some excitement. Loonieville exploded with cheers whenever Braxton Berrios or DJ Hunt scored their respective touchdowns.
"It was a nice little reminder of what it meant to be a loonie," continued Behrends.
Returning students like Behrends have seen Leesville's student section in the past. They have experienced the feeling of winning big games. However, new freshmen arrived at Leesville without anything to compare Loonieville to.
"It's an amazing feeling of having such a good team in only my first year here," said Nathan Purich, freshman. "It seems to me we are very supportive of our team."
Leesville has been successful over the years with a strong senior class. The seniors who occupy the front of Loonieville usually start chants and cheers for the section.
"They are like the leaders of the school when it comes to cheering because a lot of us depend on them for paying attention to the plays," said Samuel Sarakbi, senior. "I don't know much about football so I just cheer when other people cheer."
Whether the student section is primarily seniors or freshmen, the Loonies cheer as one. Loonieville can act as an engine for the players or it can add to the pressure of each play.
"Whenever the crowd is quiet, the mood changes for the team," said Nick Holthouse, player and junior. "But whenever they [the Loonies] get excited, the parents get excited, the team gets hyped, and we really start to feel it."
The Grill Team has always been a big factor in the turnout at Loonieville. It grew into a big organization over the years but has diminished recently.
"You would think they would be growing considering the type of season we are having now," argued Sarakbi. "The fan sections should be louder than ever and the parties even bigger, but I'm just not seeing it this year."
The signs of a healthy fan base may be hard to spot, but there are still many dedicated Pride fans. The spirit week leading up to the homecoming game experienced one of the biggest participation ratings in Leesville's history. Other students leave each game with damaged voice boxes.
"I can never speak the day after some games," said Kodiak Dunsworth, sophomore. "I try to yell whenever I can, but I guess I'm gonna have to step it up a notch for the playoffs."
Leesville's student section will play a key role as the postseason progresses. In response to such a phenomenal season, I am hoping that the turnout and spirit of Loonieville will expand tenfold.
"We have a difficult road ahead of us, but I believe we will be able to pull something out of the hat," said Dunsworth. "The cheering section must go all out in order for the team to play their best."