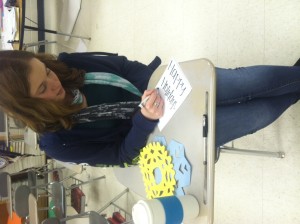 On Tuesday, November 15, 2011 Leesville's Medical Club members made inspirational holiday cards for sick children at Duke Children's Hospital. All cards will be collected by December 6, and the cards will be delivered to the hospital on December 20.
"It was last years president's idea. I really like making these cards because I think it's a nice thing to do for sick children. It doesn't take much effort, but it has the potential to really make a difference," Sydney Noble, senior and the club's president, explained.
Every three cards will count as one service hour, but that's not the motivation to make cards for these Leesville students.
"The hours don't really matter to me; I made cards because I felt like I needed to give back to my community, especially during this time of year. I hope it brings happiness the kids," Pierce Do, junior, said.
Medical Club plans for exciting events in the future.
"We will be having more inspirational speakers for our members. [The leaders] hope it will motivate these students to continue doing their best in school to achieve their career goals," Do said.