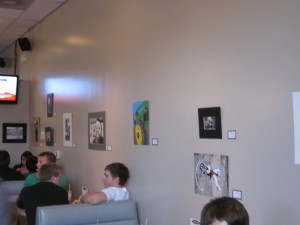 On Monday, May 23, Jose Espinal's Honors Art IV class presented their favorite works at the new restaurant Fiasco's in Brierdale Shopping Center.
This showcase, which is the first of its kind for most Leesville art students, attracted a large crowd of students, parents, teachers and friends wanting to explore the works of the talented artists.
According to Espinal, Fiasco's just opened in December and was in need of some decoration. Espinal, who is friends with the owner, said, "I told David [the owner] that he had some bare walls, and I could help him out." Thus, the art exhibition was born.
The only requirement Espinal had for the students, aside from choosing their favorite or best piece or series, was the task of matting their work. "Matting gives the art a look of professionalism," he said.
The class, described Espinal, is "rigorous." Students in Honors Art IV are required to complete three pieces every fifteen days. In that time, students must propose their ideas to him and the class as well as critique others' work. By the end of the semester, said Espinal, the students should have more than 20 items for their portfolio should they decide to apply to an arts college.
Dakota Rose, senior, decided to present her ink wash piece, called "Razor Face," at the show. Featuring a closeup of the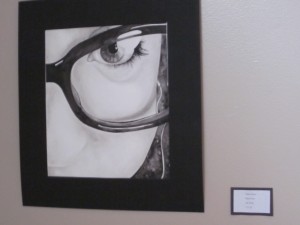 upper left side of her face wearing glasses and earbuds, Rose says she chose this particular piece because she "had the most fun doing it."
Rose intends to continue with her art at UNC-Charlotte where she will study graphic design. This being her first show, she was emanating with nervous energy and was all smiles. "I've never done this before. It's really exciting," she said.
Many students featured in the exhibition are similar to Rose in their aspirations to pursue art after high school. Four of Espinal's Honors Art IV students intend to enroll in AP Art at Leesville next year. AP, which will be more intense and require more commitment, will arm the students with more than 30 completed works for a portfolio.