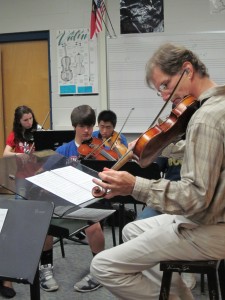 The Leesville String, Chamber and Symphony orchestras performed a truly stunning concert on Tuesday, May 18, at 7:00, complete with an incredible solo by Galen Tim, senior.
The String orchestra played first, performing a number of recognizable songs such as: "In the Hall of the Mountain King" by Edvard Greig, arranged by Calvin Custer, "Clocks" by Coldplay, and "Take Five" by Paul Desmond, arranged by Calvin Custer.
The latter, "Take Five," was the most jazzy piece of their repertoire and is named after the quintuple time (5/4)  in which it is played. The musicians used several electric instruments, which added a certain smoothness to the song.
"For one, it's a lot louder and has a better quality, so it makes the overall piece sound more alive," said Sydney Wooten, freshman, who has played violin since fourth grade.
Nick Denning, sophomore and bassist for both Chamber and Symphony, disagrees. "It can make it more fun to play, [but] I don't care for them personally. I like the feel of an acoustic instrument, it sounds better."
Chamber performed with the strings orchestra to play "Clocks" by Coldplay, a popular song recognized by most of the audience. Afterwards, the Strings orchestra left, and Chamber then performed "St. Paul's Suite" by Gustav Holst. Their sound was more intense, serious, and complex than the former group; their experience and talent shone through each note, increasing the beauty of the song.
The Leesville Symphony appeared next. The last two orchestras were incredibly impressive, but the Symphony absolutely blew me away.
Galen Tim, senior violinist, played his solo during "Concerto in E Minor," by Feliz Mendelssohn Bartholdy.
"Having to memorize it all was the hardest part," said Tim. "I've worked on it on and off for the past two years."
Tim has been perfecting the art of the violin since fourth grade and has been with Stiles since middle school. He will attend the University of North Carolina Greensboro next year to study violin performance.
The 3-part video of his performance can be viewed on youtube.
As a beginning violinist myself, I was extremely impressed and inspired by this concert. The full, intense sound from the musicians amazed me; I couldn't believe that such a poignant sound could come from a couple of strings.
With a big smile Tim said, "[Orchestra is] really, really fun. It's a great group of people working to create something that's bigger than ourselves individually."