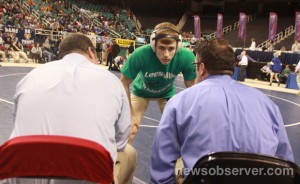 Bobby Griffin, senior, and C.J. Kimmerly, sophomore, recently competed in the State tournament for wrestling.
Both finished in the top 4 in the region in order to qualify.  Griffin placed first in the region.
Jason Wyss, coach, viewed the State tournament as a success.
"Both Bobby and C.J. wrestled well," said Wyss.  "C.J. had a tough draw and finished 0-2, but he has two years, and I expect big things from him in the future."
Kimmerly was pleased with his performance as well.
"My original goal was just to make it to States.  It was a good feeling just to get there.  I'm ready to try and get back next year."
Griffin finished second in the State.
"Bobby turned in a very dominant performance to reach the finals," said Wyss. "He only allowed two points in his first three matches.  He was defeated in the finals by Scotland County's Nick Kee, who earned his second State medal.  Bobby finished the season 53-7 and 106-34 for his career."
"I wanted to win," said Griffin, "but the kid I was going against has been wrestling since kindergarten."
Overall, second place in the state is still a major accomplishment.  Griffin has tentative plans to wrestle at NC State University, though he is not sure.
"My favorite part of the experience was going to get wings afterward," said Griffin.
Kimmerly agreed.  "It was great to just be there and hang out with Bobby and the coaches."
The State tournament proved to be rewarding for both wrestlers.  When asked to give advice to his returning teammates, Griffin said, "Just work hard.  Eventually it will pay off."