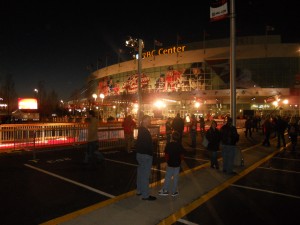 From January 28 through January 30, the National Hockey League's, or NHL's, All-Star Weekend created a buzz throughout Raleigh. Students from LRHS did not hesitate to join in the celebration of Raleigh's first All-star Weekend.
Every year, a city with an NHL team will host the All-star Weekend. A few years ago, the commissioner, Gary Bettman, promised the Carolina Hurricanes that if they sold over 12,000 season tickets, then Raleigh would host the All-star Weekend.
Bettman fulfilled his promise when he announced the arrival of the All-Star Weekend in Raleigh.
There was no All-star Weekend last year due to the fact that most of the NHL players were playing in the Vancouver Winter Olympics. Two years ago, Montreal celebrated their 100th year anniversary by hosting the All-star Weekend. Both cities handled their events exceptionally well.
This gave Raleigh an opportunity to compare itself with two of the largest cities in Canada.
With help from the NHL, Raleigh transformed Fayetteville Street, the new convention center and the amphitheatre into a hockey playground.Students could celebrate this once-in-a-lifetime event by strolling through a newly-decorated downtown Raleigh and seeing the attractions taking place.
Cory Scheviak, senior, took a whole day to take in the scenery and fun. Starting at the convention center, Scheviak walked to the Capital through Fayetteville Street participating in the events.
"I got to try on players' jerseys and gear. The music in the convention center was getting me pumped up for the game," said Scheviak. "Players were signing autographs. I got to see Ariel Down perform live and they are one of my favorite bands. My friend and I even bought matching Henrick Sedin and Daniel Sedin T-shirts."
Inside the convention center there was a Stanley Cup viewing, interactive hockey stations and a trading card show.
All of this eventually led up to the SuperSkills competition on Saturday and the actual All-Star Game on Sunday.
Before the SuperSkills competition, the All-Stars entered the stadium on a red carpet where they could meet their fans. Scheviak managed to get an autograph from Taylor Hall, the number one draft pick in 2010.
"It was so much fun," said Scheviak. "There was a lot to do. Raleigh did a great job with it, and I was reading in the N&O this morning that Raleigh has been getting good reviews."
Other students, like Michael Meli, got the chance to celebrate All-star Weekend, as well.
"It was a very nice weekend for hockey and for the Triangle," said Meli. "And I can't wait until the next one."