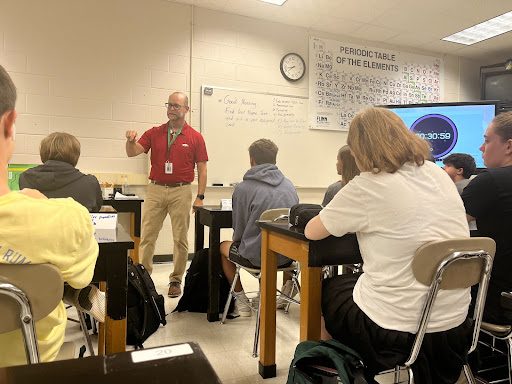 Kenneth Krumwiede is a new teacher here at Leesville. "I've always heard good things about Leesville, and I was just really excited about being in the environment," said Kenneth Krumwiede. 
This is his first year teaching high school students and as well as new to teaching chemistry. "It's been challenging, I'm not going to lie. It's just a different environment."
Mr. Krumwiede grew up in a small town in northwest Arkansas with a population that was about the same as the number of students attending LRHS. He attended college at the University of Arkansas not too far from his hometown. After attending college, he taught at Neuse River Elementary School for 18 years in Arkansas.
After teaching for 20 years, he has taught at almost every level, elementary, middle school, and even adult education, but "Teaching science at the high school level has been my goal for a long time… I always wanted to be a high school science teacher in high school cause I wanted to be a science teacher and a coach, " Mr. Krumwiede said.  
Last year he taught at Neuse River Middle School in Knightdale where he was a baseball coach for the school team.
Kenneth Krumweide has wanted to teach high school science since he was in high school and wants to coach as well. He truly shows a passion for teaching and his students. He loves teaching because of his students, but he explains how he could be teaching almost anything and still be happy to teach.