The Nebraska Huskers volleyball team had a world record breaking audience at their match against the University of Nebraska Omaha in Memorial football stadium. (Photo used by permission of Judy Slattery)
The game that changed history
On Wednesday, August 30, Laney Choboy, Leesville alumni, started for the University of Nebraska-Lincoln (UNL) Huskers volleyball team in a record-breaking match.
The five-time NCAA championship team played the University of Nebraska Omaha in UNL's football stadium, Memorial Stadium. With 92,003 people in attendance, the sold-out match set a world record in attendance for a women's sporting event.
The previous world record for attendance to a women's sporting event was the Champions League match in Barcelona, Spain between FC Barcelona and Wolfsburg. With 91,648 people in attendance, the game held the world record since April of 2022 until it was broken last week.
UNL's volleyball facility only has a holding capacity of about 7,907 people. Given the transition to the Memorial Stadium, with a holding capacity of more than 90,000, the volleyball match was already speculated to break the world record for attendance.
To accommodate the large crowds expected that day, the UNL chancellor even canceled classes on campus.
"It was so cool. People were downtown early tailgating and just having a good time," said Judy Slattery over the phone. An avid Nebraska volleyball fan from Lincoln, Nebraska, Slattery was elated to find out that her team had broken a world record that night.
"We didn't know that we beat the record. That was announced later on in the game…and people just went wild."
According to espn.com, the historic game was held on what has been named "Volleyball Day in Nebraska" by fans.
Choboy at Nebraska
Choboy is a freshman at UNL, having switched her initial commitment to the University of Minnesota's volleyball team and joining Nebraska's instead. According to Prepvolleyball.com, Choboy was the No.8 overall and No.1 libero for national recruits in 2022. Her decision to join Nebraska's team further solidified their strength as the No.1 ranked volleyball team in the country for defense.
Having played as libero in highschool, Choboy has experience all over the court. However, her strength lies in her position as the starting defensive specialist for Nebraska.
"One of the big things that Coach Cook [Nebraska's head coach] stresses is defense," Slattery said when asked about Choboy's contribution to the team. "Laney is fabulous for our team, because she's the specialist of defense and starts as a freshman."
Choboy proved her strength as a player in a sweep-out win against the Omaha Mavericks. After winning the first two sets by over ten points with a score of 14-25, the Nebraska Huskers finalized their victory in the final set, defeating the Mavericks in a set of 13-25.
Choboy's legacy
At Leesville, Choboy started on the varsity team when she was just a freshman and stayed there for every season she played for Leesville. She helped lead the Pride to the conference championship in 2021 and 2022 and was named an all-conference player.
Alongside her commitment to Leesville's volleyball team, she also played club volleyball competitively for NC VB Academy, earning herself three club MVP titles.
On the Leesville team, Choboy was and still is highly respected by her teammates.
"Laney Choboy was a fighter. She would always fight for every single point, no matter whether we were in practice or in a game…she would always go for every ball," said Liya Mekuria, senior and varsity member of Leesville's volleyball team.
"Honestly, she was a player, but also a coach. She coached us to win games, and she was kind of the heart of the team," Mekuria added.
In addition to her teammates, Choboy is held in high regard by Erin Hensler, her Leesville volleyball coach.
"Laney is very athletically mature for her age. She's very dedicated to the sport, she does everything that she can to get better…but overall, her personality is very bubbly and happy," said Hensler. "She really likes to have fun and get loose, but when she gets on the court, she's all about business."
"Whenever you watch a player who's that elite, it kind of reinvigorates your love for the game because you see her make plays and do things that you just never thought you would be able to see and be that close to," Hensler added.
Choboy's achievements before her collegiate career set the foundation for what her teammates and coaches believe she is capable of in the future. Competing in two U.S Girls World Championships in 2021 and 2022, there's no doubt that Choboy is headed for success.
"I think she is playing at her highest potential, and honestly, she might go on to the Olympics," said Mekuira. ¨This level of volleyball is like nothing to her, because she's Laney Choboy, she's amazing…she's like a star."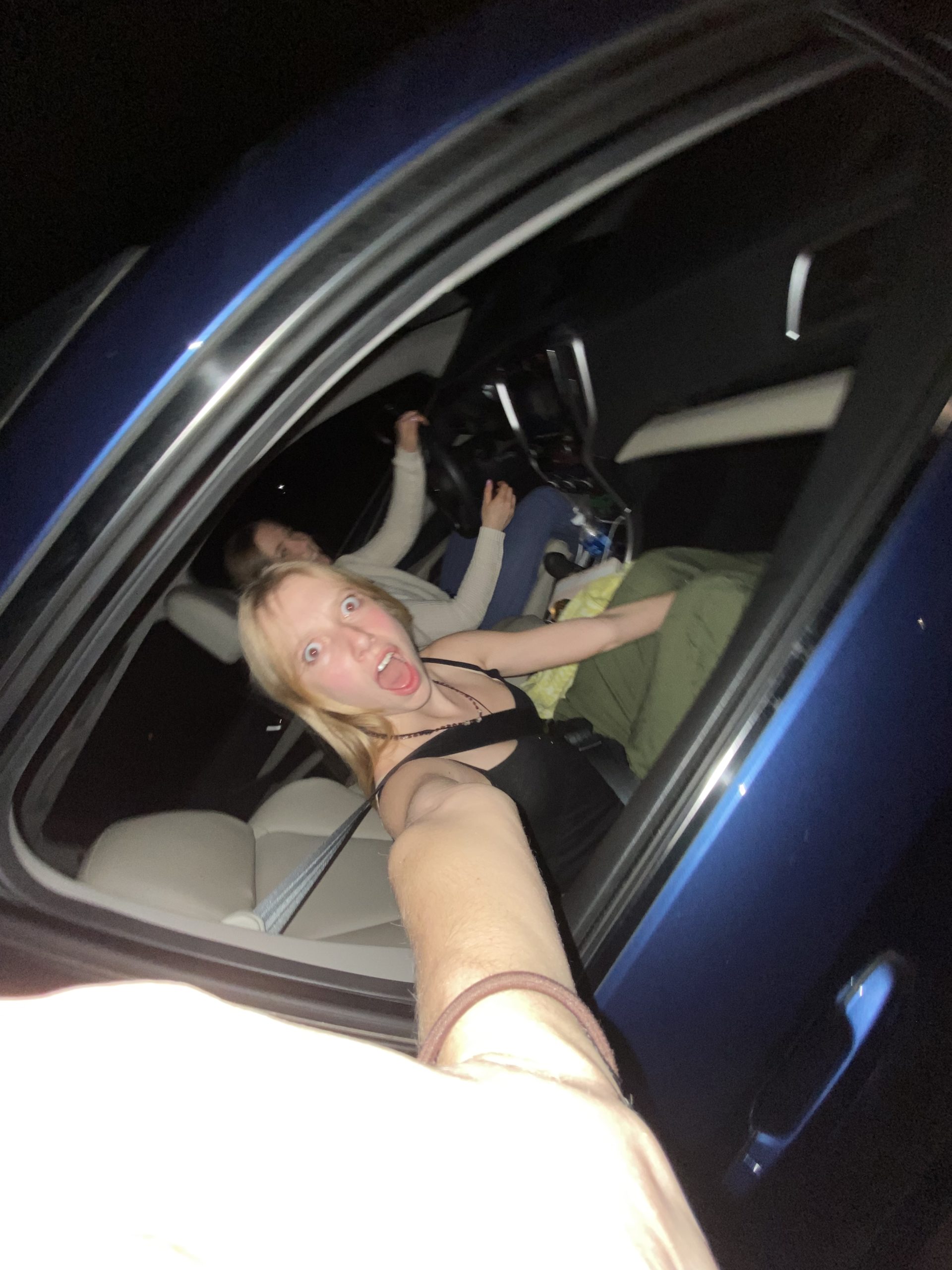 Hi, I'm Clara. I'm a co-founder of Leesville's Earth & Sustainability Club and a Varsity member of the Track & Field team.