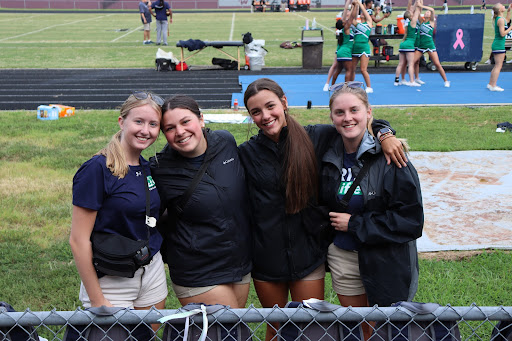 When you play sports like football, basketball,soccer, cheerleading, and etc. You have a very high chance of getting hurt while you're playing or at practice.
When you first get hurt at a game or practice the athletic trainer has a process they follow when an athlete gets injured.
"Depending on the severity of the athlete's injury, if it's a game or practice, the first thing you want to do is make sure that they are 'stable.' Do they have airway to breathe? Then you want to calm down the patient enough to be able to evaluate them. If it's safe to move the patient then you move the patient and evaluate them in a safer place. If you have to splint a patient because you are concerned about a broken bone you have to splent them prior to moving them," said Susan Ennis, athletic trainer for Leesville.
When an athlete gets hurt, there are a lot of emotions besides being in pain. 
"I was very upset when I couldn't play. It was frustrating when it wasn't healing as fast as I thought," said Mia Caruana, a sophomore who is also a Varsity tennis player. Caruana hyperextended her knee at tennis practice.
After an injury,  you have to get cleared before you start playing and depending on the injury it can take time getting injured.
"I had to regain full range of motion in my shoulder and re-build the muscles in my shoulder near my collarbone. Did this by physical therapy. They gave me Stretches and exercises to do every day," said Brayden Rivenbark, junior, a varsity football player. By doing that he got cleared about 7 weeks after the injury.
But with Caruana, it took 6 months to get cleared. "I had to be in physical therapy for 4 months to become stronger," said Caruana.
It is very important for athletes to follow the protocols, so they can become healthy to play sports again
Hey I am Meonna Sloan and I am a sophomore at Leesville Road High School.