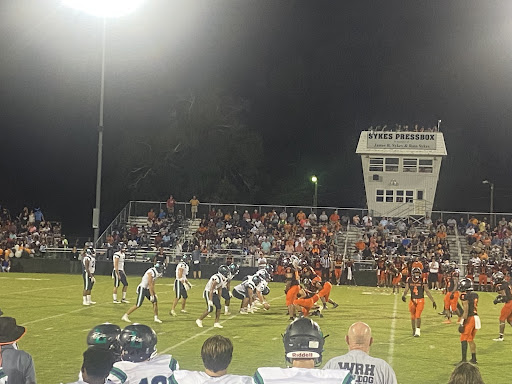 Leesville Road High School Football is a big part of the Leesville community. Last year, in the 2021-2022 season the football team made it to the 4th round in playoffs.
The 17 senior players, who graduated last year, were vital team members. With them leaving, the younger guys have big shoes to fill this season."We have some young guys on the team." John Mark, a senior at Leesville who has been on Leesville's Varsity team for two years.
"We are a younger group and like I said we are still learning, but we are getting better and last year we were an old group," said Mark Morgan who coaches inside linebackers and has been a coach for 33 Years. 
Even though there aren't many home games,  "We have a great student section and a great staff," said Mark.
Comparing last year to this year, one difference is effectiveness on both sides of the ball. "We have a more balanced offense and more aggressive defense,"  said Xavier Lewis, sophomore at Leesville who is playing on varsity for his 2nd year.  
"I think we are gonna do very well, and I think we are going to win the state championship this year," said Lewis. 
The team is feeling very confident about making it far this season. The team won all 3 games so far and are ranked 11th in North Carolina out of 400 teams.
Hey I am Meonna Sloan and I am a sophomore at Leesville Road High School.