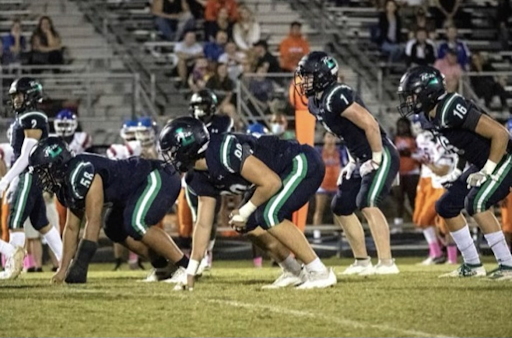 Friday nights are an essential part of American High school Culture. Leesville's football season ended, so let's recap The Pride's season.
Wakefield: 18-8 (W)

Panther Creek: 45-0 (W)

Southern Durham: 14-6 (W)

Wake Forest: 13-10 (W)

Broughton 56-7 (W)

Cardinal Gibbons: 13-3 (L)

Athens Drive: 52-6 (W)

Sanderson: 17-14(L)

Enloe: 43-0 (W)

Holly Springs: 27-13 (W)

Richmond: 19-14 (W)

Knightdale: 28-7 (W)

Rolesville: 47-24 (L)
Leesville started off strong going undefeated for the first few games of the season. Cardinal Gibbons was their first loss.
Leesville picked it back up, beating Athens Drive, but lost to Sanderson at the next game. Beating Enloe at the following game qualified Leesville for the playoffs; they won the first, second, and third rounds against Holly Springs, Richmond, and Knightdale. 
The Pride, though, had a tough loss in the fourth round against Rolesville.
What Went Well
Leesville has a good offense, gaining a total of 4254 all-purpose yards this season. 
"[Offense] ran the ball well," said D.R McMillan (Sr, #9), a wide receiver for Leesville. 
"[Defense] played as a whole team. We had really good communication. Everyone played their part, which when they did their job, helped," said Logan Bower (Sr, #2), an outside linebacker. 
A lot of Loonie fans have criticized Leesville's defense's speed, saying it takes too long for them to catch up to and tackle players. "They seemed so close… but they could just be faster," said Marley Brunson, a sophomore at Leesville. 
Bower disagrees. "All I'm gonna say is we allowed 8 points per game, which is one touchdown," Bower said, "So I wouldn't say we don't catch up. We had a lot of 3 and outs, so I wouldn't say that."
Richmond was the second-round playoff game, and there was a noticeable energy shift — a vigor that hadn't been there since the Southern Durham game at the beginning of the season. 
"It's just we knew we were the underdog," said Bower. "They were the number one seed… the vibes were just really good and brought the best out of all of us."
"We played like it was out last game… we had something to prove," said Ian Westbrook (Sr, #8), a wide receiver. 
What Didn't Go as Well
While Leesville had a good season, there's always something to improve on. 
The offense could "do better in passing… [and] maybe a more open playbook," said Westbrook. 
The defense, on the other hand, "sometimes stopped playing… if the game is over," said Bower.
Gibbons was the first loss of the season. "We played the better game, just couldn't finish drives so that hurts," Westbrook said.
After the Gibbons game, the offense stressed finishing drives in the red zone.
Sanderson was a weird loss. Leesville was ranked higher, yet they still won by a 3-point conversion in the second quarter. "We just underestimated them, [and] didn't watch film at all on them that whole week," said Westbrook.
The season-ending loss against Rolesville was disappointing.
"I know defense isn't a one-player thing, but I would say if we had Beau, it would be different," said Bower. "He has been playing that position the whole year. Moving a nose tackle to d-end was a really dramatic change which messed a lot of things up."
Beau Atkinson (Sr, #5), a defensive end and tight end, was injured for that game.  
On the offensive side of the Rolesville game, Rolesville's QB had a lot of passes. "We could've contained their QB," said McMillian. 
"I think we underestimated their whole offense," said Westbrook. "We were too confident, offense and defense."
Player Spotlight
While of course, every player on the team played well, some just stood out. 
On offense, Nasir Winston (Sr, #6), a defensive back and wide receiver, collected a total of 900 yards this season. Winston averaged out to 69.2 yards per game. 
DJ Scott (Jr, #22), a running back, secured 1728 yards this season. Scott is the only player to collect over 1000 yards this season. 
Jay Snelling (Jr, #25), a running back and outside linebacker, collected 595 yards — 515 of those yards were rushed.
John Shaw (Jr, #7), the quarterback for Leesville had a passer rating of 98.9 this season.
On defense, Tyler Lassiter (Sr, #1), an outside linebacker and middle linebacker, had a total of 90 tackles, 42 solos, and 48 assists. 
Beau Attkisson (Sr, #5), a defensive end and tight end, had a total of 71 tackles this season, averaging 5.5 per game. 
Jacob Lail (Jr, #10), an outside linebacker, secured 67 tackles this season, 30 of those being solos and 37 assisting. 
Leesville had a great football season making it to the 4th round of playoffs! It's exciting to see what they're going to do next season.