*Spoilers*
About the New Squid Game Hit Series
'Squid Game' follows the lives of hundreds of indebted participants who are invited to participate in multiple games based on games a majority of them played in their childhood. The universal goal of all the players is to be the last one standing and to take home a cash prize of 45.6 billion (about 38 million dollars in US currency). 
Some of these childhood games include "red-light green-light" (round 1) and "tug-of-war" (round 3), along with ones we are not so familiar with.
 The creator Hwang Dong-hyuk explained to Variety on how he based the chosen games off of ones he played as a child, and he kept them simple in order to focus on characters. Some of these include "Honeycomb/Ppopgi" (round 2), and "glass stepping stones" (round 5).
The twist — you die if you lose the game. Viewers who watch the show were definitely shocked when a handful of the characters were shot after simply moving after the gigantic robot doll said "red light!" More violence — guns, knives, death, etc. followed after the "red light green light" game which occurred just in the first 40 minutes of the series. It is a very gruesome show with LOTS of blood. 
There are nine episodes and six games the participants play — well, the ones alive play it. Multiple characters die each round and the fewer people standing, the more character development and background we get from each of the players. 
Controversy Directed Towards the Shows Translation
'Squid Game' is based in modern day Seoul, where the official language is Korean. But since the show's rise in popularity was not just in Korean speaking countries, Netflix translated the entire script to English, along with subtitles in 37 other languages and dubbed in 34.
This has caused controversy between 'Squid Game' fans around the globe.
One fan, "@ymmater" tweeted on how he is fluent in Korean. He comments on his strong feelings towards the translation of the show. 
This tweet went viral with over 116,800 likes and 15,700 retweets. Many Twitter users agree that anyone watching the show in English did not watch the same show. 
My Opinion
Overall the show was okay, but many people may disagree with me when I say I think 'Squid Game' is overhyped. 
There are some highs and lows in my opinion. One good thing about the series is that it includes a mix of gruesome violence along with comedy to make it more enjoyable and somehow "realistic". It all occurs in real life and there's no extraterrestrial or supernatural elements — which gives the "creepier because it could actually happen," sort of feeling from the show. 
One other thing that I have seen everywhere is that 'Squid Game' has people hooked, and I can not quite disagree — I finished the show in about a day and a half.
But the part that made me not love 'Squid Game' as much as I thought I would was that I felt like most of the show was pretty predictable. For example — it was easy to guess that Seong Gi-Hun (the show's main character) would win the game. It was also clear something was up with Player 001 or the "old man" when he knew how to play every game exactly. 
None of the plot twists in this show really surprised me like other shows I've watched. This is not something that makes 'Squid Game' a bad show necessarily, but you would think for something to get so popular so quickly it would need to be a little less predictable.
Overall I do recommend watching the series in order to form your own opinion, as everyone carries different ones. Since it is currently so popular throughout all social media platforms, it is not easy to be exposed to all the 'squid game' content without watching it for yourself.
Tiktok Trends Related To The Squid Game
As it does for other new shows and movies, social media has given Squid Game painful title and viewers with no doubt. You must be lying if you say your "for you page" is not filled with 'Squid Game' tiktoks. On the app, the hashtag, #SquidGame has been viewed 24.4 billion times.
People on the app have taken multiple of the childhood games the game participants are forced to play and have turned them into viral TikTok trends.
One of the biggest 'Squid Game' trends right now – the "Red Light Green Light challenge" can be found most likely throughout your for-you page or under the hashtag "#RedLightGreenLightChallenge," with almost 6 million views. In this part of the show- (the first episode of the series)- a gigantic robotic doll will say "red light" and "green light" consecutively. 
The players will stop and proceed on moving towards the finish line depending on her words. If you are scanned and you are moving when the doll says "red light," you die. Same kind of thing in this new TikTok trend — except for the dying part. People like to recreate this episode's scene representing "what they would do if they were in 'Squid Game."
Seeing this kind of content on social media gives viewers a little preview of what the new series includes. When more and more people post about it, more and more will open Netflix to watch 'Squid Game' themselves. 
"People hear about it, people talk about it, people love it, and there's a very social aspect to that, which does help grow the show outside of what we do," Netflix's global TV head, Bela Bajaria, told Vulture.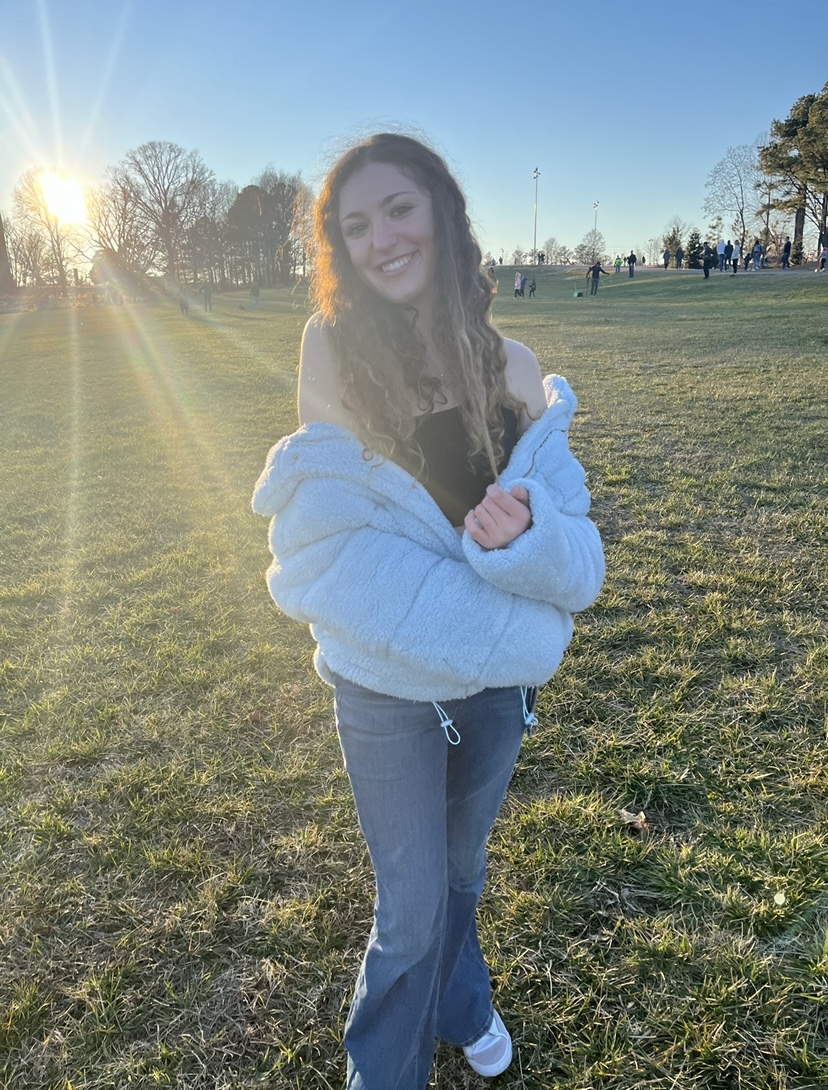 Hi! My name is Maddy and I am a staff writer for the Mycenaean. I love to travel, watch sunsets, and listen to music.