Contributor: Mikah Boyce, Robby Crocker, and Grant Silver
An Adorable…Crocodile?
An adorable video of a crocodile and it's owner hanging out on the couch as best friends.
A Heroic Save
Incredible pic.twitter.com/7z1D8XCvYl

— Dudes Posting Their W's (@DudespostingWs) September 22, 2021
In this clip, retired rugby player Nick Cummins drives past a sheep stuck in barbed wire. He heroically gets out and untangles it.
A Seal's Birthday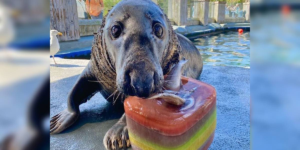 Yulelogs, a seal at the Cornish Seal Sanctuary got a special ice cake for his 31st birthday but he fell asleep on top of it!