After waiting nearly two years, the 2021 Met Gala made its return. Watching some of Hollywood's biggest stars wearing elaborate looks excited many people in the fashion world. 
The Met Gala is a big fashion benefit to celebrate and fundraise a new exhibit at the Metropolitan Museum of Art's Costume Institute. It's essentially an opening-night party and fundraiser for an annual fashion exhibit curated by the Costume Institute. 
The Costume Institute will actually present a two-part 2021 exhibit. The September 13 Met Gala opened up part one of the exhibition, "A Lexicon of Fashion". 
Part two, "An Anthology of Fashion," will open on May 5, 2022, after hosting the next Met Gala on May 2, 2022. 
Typically, everyone dresses to the theme. This year, the gala's theme focuses on celebrating all things American fashion, wearing looks that reflect America's gusty, adventurous, and elegant spirit. 
Andrew Bolton, the Wendy Yu Curator in Charge of the Costume Institute, felt it was time to reexamine American identity as it has changed over the past several years. 
Normally the gala is held on the first Tuesday of May, but the new date is yet another unforeseen result of the pandemic. The event was canceled last year, and postponed to this September — falling right in the middle of fashion month, meaning the stakes for stellar style on the red carpet were especially high.
Every year, the Met Gala has a number of co-chairs who help host the event. For the 2021 Met gala, Timothée Chalamet, Billie Eilish, Amanda Gorman, and Naomi Osaka co-chaired the affair.
The guest list was very youth-focused. Not just because of the co-hosts, but because the exhibition it celebrated was 70 percent young designers, most of whom had never attended the gala or imagined their clothes might end up in the museum.
To follow COVID-19 safety protocols, it was a more intimate affair this year, yet there was still a red carpet and the iconic Met steps. 
When it came to the gala outfits, viewers saw both obvious and subtle nods to American fashion, culture, and history, while plenty of American designers were represented at the event.
Take a look at some of the best and boldest ensembles: 
Kendall Jenner in Givenchy
Kendall Jenner is no stranger to the Met Gala. She knows how to pull off a sheer dress. The one she wore at this year's Met Gala may have been her best sheer dress outfit yet.
The gown, which was embellished with crystals, featured a fishtail train and a jeweled neckpiece. It was inspired by a dress Audrey Hepburn wore in My Fair Lady.
Timothée Chalamet in Haider Ackermann
In this look that could double as a comfortable lounge look to go grab a bagel and an NYC weekend uniform, Chalamet classed it up in exactly the way he knows best.
Chalamet combined various pieces from several designers: a satin Haider Ackermann tuxedo jacket, a clingy Rick Owens turtleneck, and Cartier brooches fastened to the sweats. The whole look topped off with clean white Chuck Taylors because nothing says 'American' more than a pair of classic Converse.
Normani in Valentino
Normani wore a picture-perfect Valentino couture gown for the 2021 gala. The boundless skirt, dramatic train, and huge sleeves are all made for head-turning fashion, which is what the Met Gala is all about.  
The lovely yellow tint of her dress really complimented her dark skin, making her look regal and giving her all the confidence in the world as she strutted the Met steps. 
Lil Nas X in Versace
It's safe to say Lil Nas understood the assignment of the Met Gala — come to slay, serving a look to remember. He gave viewers not one, not two, but three memorable looks, continuing to make style statements everywhere he goes. 
 Billie Eilish in Oscar de la Renta
Eilish wowed the masses in this stunning tulle gown. Not only did she give a memorable look, but she was also responsible for a large-scale change. As a vegan and animal welfare activist, she issued an ultimatum to the brand, saying she would wear the gown if they ceased the use and sales of fur within their company. Thankfully the brand followed through, blessing viewers with this look. 
Iman in Dolce & Gabbana x Harris Reed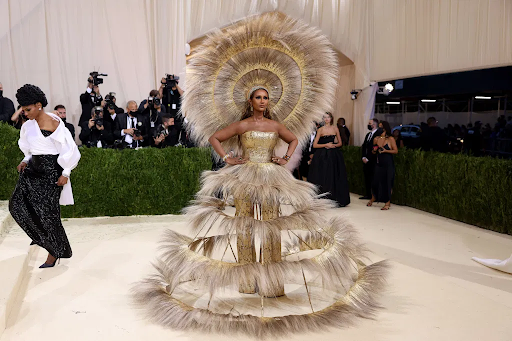 Supermodel, actress and entrepreneur, Iman, turned heads in this larger than life look, completed with a showgirl-worthy headpiece. She paired the headpiece with a matching hoop skirt cage decorated with gold-painted feathers. The skirt was layered over a strapless metallic gold jumpsuit, which she accessorized with matching chandelier earrings, bracelets, and rings.
Rihanna in Balenciaga and A$AP Rocky in ERL
Last, but certainly not least, Rihanna and A$AP Rocky made their entrance in matching oversized overcoats.
There were people who were not looking forward to the socially distanced, mid-September 2021 Met Gala, but by the time Rihanna showed up at the last minute and closed the red carpet with a stunning final surprise, everyone was in the mood to celebrate.
If you are sad to have missed the event live, no need to worry, you can re-watch the live stream from the event here.
Hey! I'm Viv. I am president of the club Pride Players, as well as a member of NHS, FCA, and SNAC Club. I also play on the Varsity Softball team. You will probably see me around school or at sporting events with my camera!