Contributors: Mary Mabry and Gretchen Stern
Happy Wear Red Day! 
It's #WearRedDay! Share a pic using #WearRedDay to show your support and raise awareness that heart disease is the No. 1 killer of women. pic.twitter.com/4wZYPWHYwr

— American Heart Advocacy (@AmHeartAdvocacy) February 5, 2021
Today is National Wear Red Day! People wear red on February 5th to raise awareness for Women's heart health. So, when you leave your house today, don't forget to wear red!
Owa Owa is verified!
Pudgy, a famous Tik-Tok dog, has finally been verified on Tik-Tok! He is well-known for his signature remark "Owa Owa" and he has 9.8 million followers on his account – @pudgywoke. This news was celebrated with a video of Pudgy and his owner, which now has 20.2 million views and 5.8 million likes.
The Countdown to the Super Bowl
Chiefs. Buccaneers.
Mahomes. Brady.
CHEGA LOGO #SUPERBOWL! 🏆🏈 #NFLBrasil pic.twitter.com/EkQnoFeBfv

— NFL Brasil (@NFLBrasil) February 5, 2021
The Super Bowl is only days away! On Sunday, February 7th, the Kansas City Chiefs and the Tampa Bay Buccaneers will face off in the NFL championship game. This is Tom Brady's 10th Super Bowl, but he just transferred to Tampa Bay last year. He matches up against the young Chiefs quarterback, Patrick Mahomes.
#HereForCharli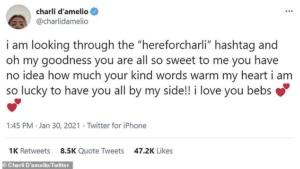 When Charli XCX lost her close friend, fans started using the hashtag #HereForCharli to show their support for the singer during her grief. However, Charli D'Amelio, a famous 16-year-old tiktoker, mistook the hashtag to be about herself and posted a message of gratitude to her fans. You can read more here.
Virtual School TikToks
This TikTok made by @noah.mackrill is one of many hilarious videos highlighting the trials of online school. Many people can relate to this sad situation, which makes it that much funnier.