Leesville's Varsity volleyball team circles up with Coach Hensler during a timeout. During the timeout, the team strategized how to best continue the set. (Photo Courtesy of Ellie Thompson)
On Tuesday, December 15, the varsity girls volleyball team lost in their fourth match of the season to Sanderson.
Reagan Howey, sophomore, started with the service for Leesville, but Sanderson took the first points. Kyla Mcghee, junior, made a decisive dig to win the point and service. 
After a few mistakes on Leesville's side, the team found a rhythm but stumbled again with a few missed balls. Sanderson called a timeout when they were up by 3, 19-16. Kayla Drumgo, junior, tied up the score afterward, but Sanderson pulled ahead, securing their win, 25-19.
The second set was a tighter match, tied up multiple times — at 10, 11, 12, 18, 20, 21, and 22 — with many lead changes. Tess Moody, sophomore, made an impressive block, matched by a spike by Drumgo. Leesville fought hard and found a better rhythm for the set, but they couldn't pull ahead, leaving Sanderson with a 25-22 win.
It was a close match again in the third set, tied up in the middle at 12-12. Caroline Howey, LRHS senior and libero, made an impressive dive to earn a point and service for Leesville. Coach Hensler called a timeout when Sanderson was up 18-16, but both teams fought hard and tied up the set, 21-21. From there, Leesville could only squeeze in 2 points to Sandersons 4, yielding the 3rd and final set to their opponent for a 23-25 loss.
The team fought hard but just couldn't top Sanderson's varsity team in the home game. But courtesy of NFHS, I was able to watch Tuesday's volleyball game from home in a COVID safe environment. I would highly recommend paying the small monthly fee, so you can stream all of Leesville's games and matches.
The varsity team's next game is scheduled for this Thursday, December 17 at 6 p.m.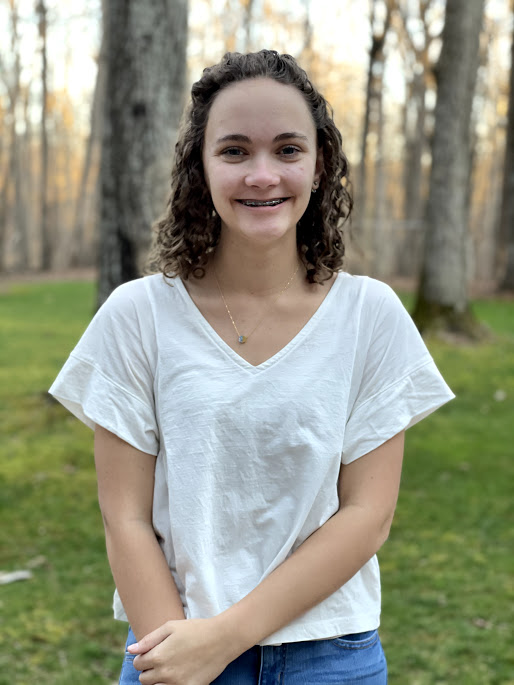 Hi! My name is Ellie and I am the editor in chief for The Mycenaean. I play soccer at NCFC and go to The Summit Church!