Quick Bites: Cassidy Farrell, Lyric Chassin, and Ellie Thompson
Tom Holland Posts Photo From the Set of
Uncharted
(Photo Courtesy of Public Domain) 
On Thursday afternoon, Tom Holland released a photo from the set of "Uncharted," in costume for his role as Nathan Drake. This photo, along with a few others posted by several accounts have spread around Twitter as excitement for the film is building. See the set photos here.
Jack Harlow Releases New Single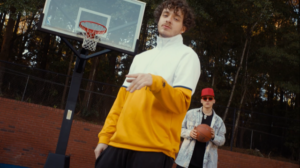 (Photo courtesy of Cassidy Farell) 
Jack Harlow released his newest single "Tyler Herro" on Thursday. The song is named after Tyler Herro, the current shooting guard for the Miami Heat. The song has been a huge hit on Twitter, especially since Herro himself debuts in the music video. Listen to Tyler Herro here.
Adele on Saturday Night Live
(Photo from SNL episode)
Adele hosted Saturday Night Live with H.E.R. as the musical guest on October 24. Adele is known for her singing rather than comedy acts; the episode features a new and different side of her. See her skits and read more about them here.
Ariana Grande Is Stepping Into New "Positions"
(Photo from "Positions" music video)
Pop music artist, Ariana Grande, made her return to the new music industry with her release of single "Positions" on October 22. The music video accompanying the single features Grande doing different tasks and taking different roles: dish washer, president, commander in chief, etc. Watch it and read more about it here. 
Joe Biden Tweet Pre-COVID 
We are not prepared for a pandemic. Trump has rolled back progress President Obama and I made to strengthen global health security. We need leadership that builds public trust, focuses on real threats, and mobilizes the world to stop outbreaks before they reach our shores. https://t.co/1qqpgayUEX

— Joe Biden (@JoeBiden) October 25, 2019
Joe Biden's tweet about COVID-19 has resurfaced one year later, with more heat than before. As the pandemic continues, comments on this tweet show Americans' unhappiness. 
Doggy Smiles 
This is Percy. Sometimes his ears dip in his water bowl, but that's okay. 12/10 would hold them back for him (IG: percythebassethound) pic.twitter.com/23dhp1YRQj

— WeRateDogs® (@dog_rates) October 25, 2020
WeRateDogs on Twitter posts lighthearted dog videos to brighten your day. Percy's ears may dip into the water bowl, but he will still melt your heart.