Contributors: Kyla McGhee 
Important WCPSS Announcement 
(Photo Courtesy of wunc.org) 
Wake County Public Schools announced the new schedules for all grade levels (K-12). Kids in kindergarten through third grade will start part-time in October. In November they will move into full-time along with the fourth graders-middle schoolers. On the other side, high school students will remain online for the rest of the semester. Depending on how everything turns out, they will be able to return for their second semester. Learn more here.
Trumps Test Positive For COVID
(Photo courtesy of Straitstimes.com )
Donald and Melania Trump tested positive for the Coronavirus after one of his aides, Hope Hicks,  tested positive. Trump sent out a tweet early this morning saying that he and his wife have COVID-19. The couple will remain in the White House during their two week isolation with the medical team on standby. Later in the day, his wife tweeted out that they "are feeling good and I have postponed all upcoming engagements". Read more here.
Boseman Mural at Disneyland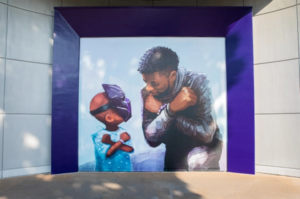 (Photo courtesy from Variety.com)
Chadwick Boseman passed away on August 28, 2020, due to colon cancer. To remember him and the legacy he left for others, a mural was built in Disneyland. Nikkolas Smith presented his mural of Chadwick Boseman to the world on September 25, 2020, at Disneyland Studios in California, naming it King Chad. In the painting, Boseman is seen with a kid wearing a mask from his hit movie, The Black Panther. The little boy has a gown on to represent the many children Boseman visited at St. Jude's Children Hospital. Learn more here.