The packing list was different this year from past road trips. This time, we included lysol spray, hand sanitizer, and masks. My family packed their bags and off we went to our first destination: Mammoth Caves in Kentucky. 
Masks and hand-sanitizers are necessary for travel in these times of the Covid-19 pandemic. Many procedures for traveling depend from state-to-state, and change constantly with new information about the pandemic. 
Many states are closing entrance from specific high-risk areas, and only allow visitors to enter if they quarantine for 14 days in an enclosed environment. New York, for example, requires visitors from 38 states to quarantine for 14 days before traveling around the state. 
However, Kentucky and Tennessee no longer have any travel restrictions from other states, and that is where my adventure began to further explore the restrictions on activities due to Covid19. 
Getting there was pretty typical: about one or two rest stops to fill back up on gas, and then off to our final destination, the hotel. The only difference this time was the addition of masks. 
When we got to the hotel, procedures were quite different than usual. We received a breakfast menu and had to choose between a slice of bread with butter and jelly, an english muffin with butter and jelly, and a bagel with cream cheese. The hotel staff would then bring up the food to us in a paper bag to make breakfast as safe as possible. We sprayed down the room with lysol to make sure all remaining germs were gone, and took off our masks to sleep. 
In the morning, we ate our paper bag breakfast and headed off to Mammoth Caves, masks in hand and ready to go. When we got to the visitor center, there was a line of people waiting for tickets to the caves. People were wearing masks and standing a reasonable distance apart. There were stickers spaced out on the ground that led to doors and said, "ticket line" or "bathroom line".
The doors opened at 9:00 A.M., and the park officers monitored the amount of people in the building and out. During the course of the day, the park will sell a max of 360 tickets. Half of the tickets are sold online, where the other half are sold at the park to allow for max space and distance between groups. 
Each ticket has a specific time stamp on it for when you meet with a group of people and a guide. The guide tells everyone the safety produces in the cave, that you must wear a mask the entire time you are down there, and walk around with only your traveling group, evenly spaced between other ones. 
After the safety procedure talk, the guide sends each group down a hill to the entrance of the caves, leaving about a minute in between each one. 
Spaced out with large spray-painted boxes on the ground, groups are ready to go into the cave. The park officers send in one group at a time, with about a minute in between each.
Once in the cave, there are two ways to go on the walking tour. The groups are split up alternating between the left and right sections to maximize distancing. 
The Mammoth Cave tours had to be cut down, eliminating personalized tours with guides in smaller spaces that are more secluded to lessen the risk of Covid-19. There is only one tour offered, the self-guided walking tour around the big sections of the caves. Again, all groups have to wear a mask at all times in the cave.
After exploring Mammoth Caves, we headed off to Nashville, a bustling music city with famous restaurants lining the streets. When we got to the hotel, there were stickers on each door that said the room had been cleaned, and to get into the room, you would have to break the sticker, kind-of like a seal on food. You are required to wear a mask at all times in the hotel and around the city. 
Walking around Vanderbilt, the college based in Nashville, we saw several Covid-19 signs reminding students to keep their distance and wear their masks. There was outdoor seating set up for students to study and hang out together. 
Downtown Nashville was still crowded with so many people, even just at 6:00 at night. This is probably the most people I have seen in a single place since Covid began. However, there were police officers patrolling the streets making sure people had their masks on. Also, there were public health officials handing out masks on all street corners to make sure people can be as protected as possible from Covid.
Restaurants down there have socially distanced their tables and do not allow max capacity in the building at one time for everyone's safety.
Back at the hotel, we looked into some of the requirements for the newly opened pool and fitness center.. There is a max of three people for both, and masks must be worn when not working out. The breakfast is small, offering mini boxes of cereal and individually wrapped apples to prevent direct contact with the food. 
We traveled to another small town close to Nashville, Franklin, and walked around there for a while. Shops lined the streets and only a certain number of people were allowed in each one. There were arrows on the floors for one-way traffic through the buildings. Everyone is required to wear their masks on the street as well. 
I have seen drastic changes, like at Mammoth Caves, where the whole program is changed around because of Covid. I have also seen places that are not as affected, like in Nashville, where hundreds of people still crowd the streets, the only difference is wearing masks.Overall, Covid-19 has become like a lifestyle around the country, with people wearing masks and distancing wherever they go.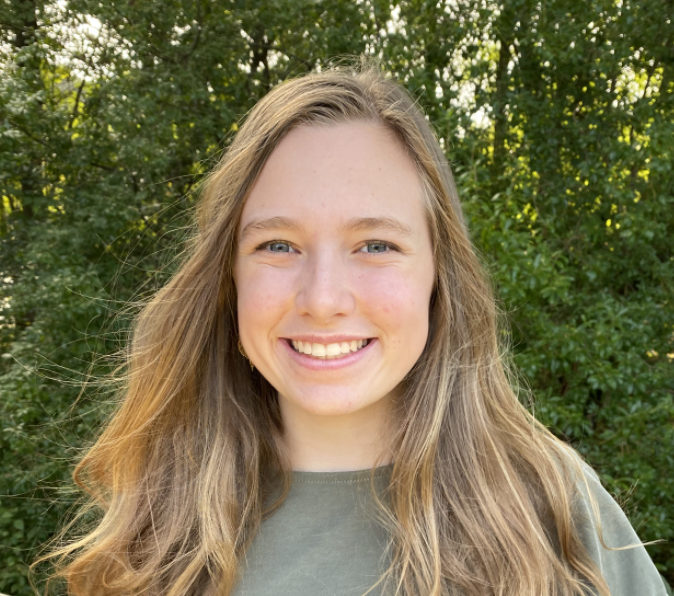 Hi! My name is Abigail and I am a senior editor for The Mycenaean. I am also a member of Leesville's cross country team and track team, as well as the president of National Technical Honor Society.