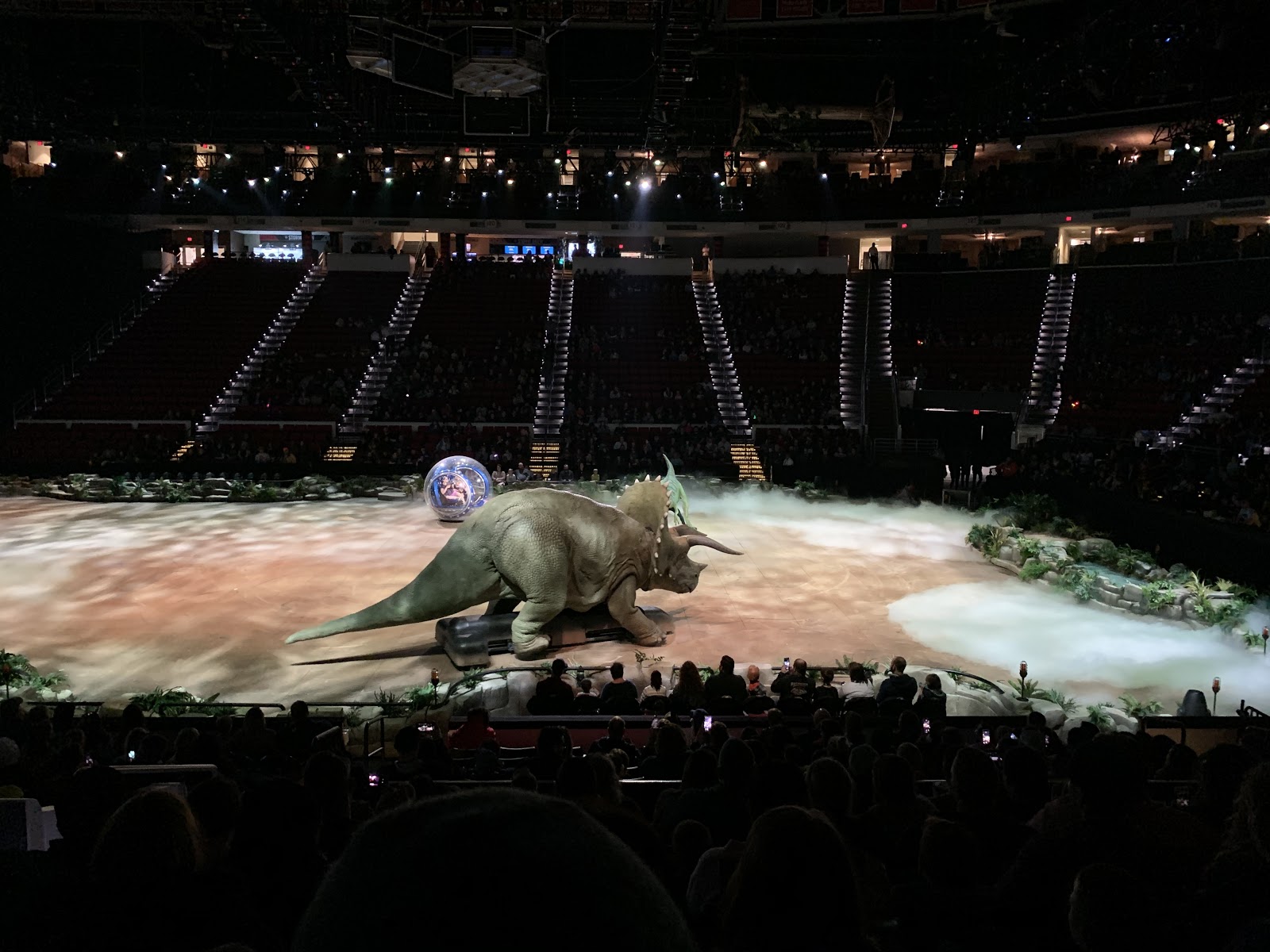 A picture from the opening act of the live tour. The dinosaurs were life-sized and even interacted with the crowd (Photo courtesy of Rachel Fearn).
Produced by Feld Entertainment, the Jurassic World Live Tour was definitely an experience to try out. The show was from February 6 to 9 in Raleigh at PNC Arena, with seats filled with fans waiting to see the live-action show. 
PNC Arena describes the storyline to be "what happens when your trip to Isla Nublar takes a terrifying turn after the Indominus rex escapes, which requires you to join forces with a team of scientists to unravel a corrupt plan and save an all-new dinosaur." 
As soon as you enter the doors, you can immediately see the decorations and small shops designed to look like the forests seen in Jurassic World. The cotton candy comes with dino masks, green screens next to a velociraptor, and plush animals in pop-up stands all around. Once we took our seats, we could finally see the full platform for the premise of the live-action show. We took our seats and waited for the show to start. 
In my opinion, this play would be better if the floor where the play was performed was smaller. Trying to fill up the entire space made it very hard to keep track of what was going on. During a fight scene, voices were coming from left to right with no way to tell the direction. 
Another flaw, the live show is nothing like the actual movie. It's more of a spin-off, despite being presented as "Jurassic World Live." Therefore, we waited for things in the movie that never happened. 
On the other hand, the storyline was actually quite interesting to watch. With live-action fights and jumpscares, the show kept people waiting for more. Another amazing factor was the dinosaurs: life-like and very detailed, they were a definite sight to see. 
Overall, the production and storyline of the show were very entertaining. This is a good idea to take younger kids to for sure.