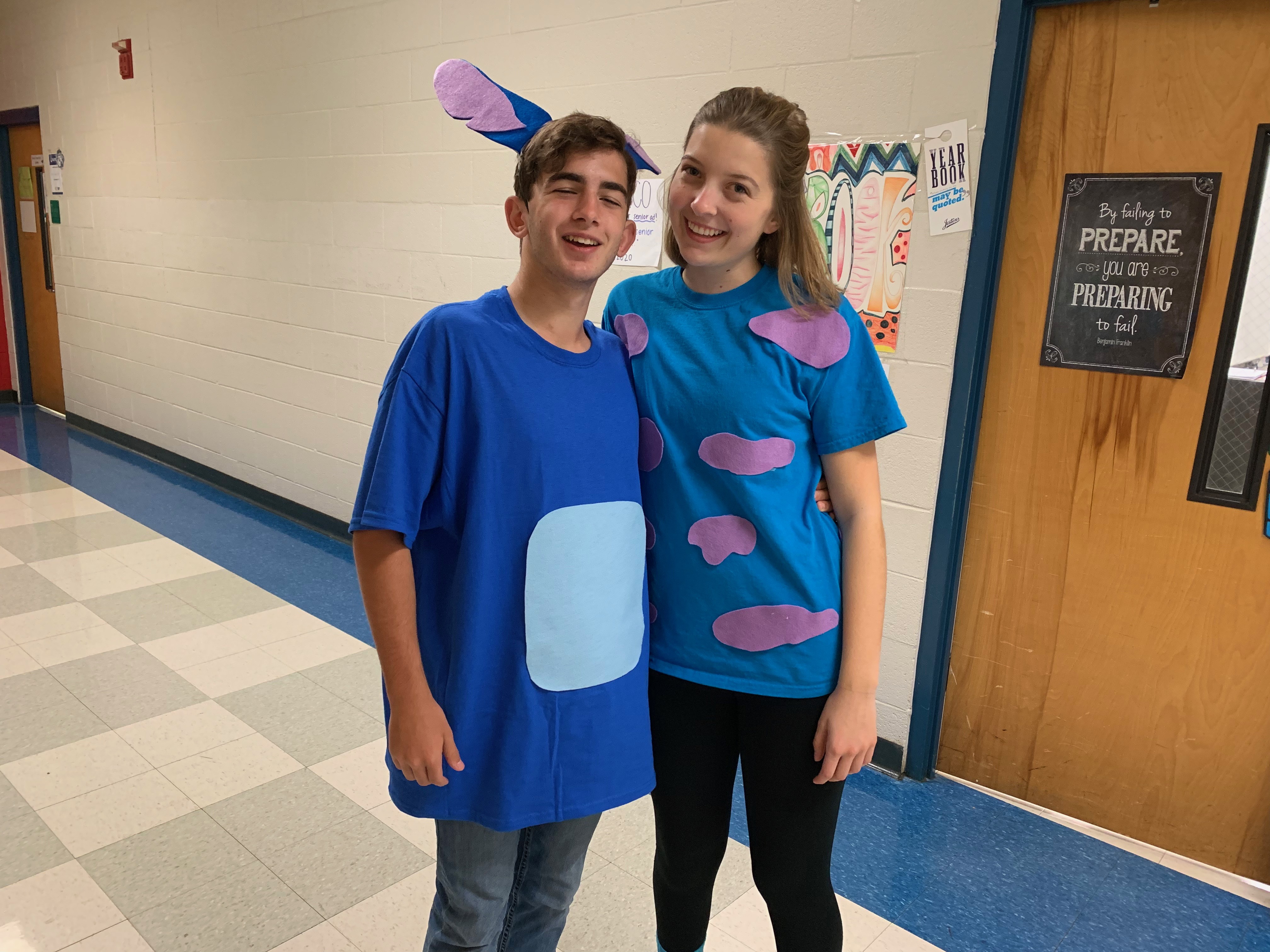 School Spirit Week is over, and Leesville certainly looks brighter than the week before. After all of the cool costumes and bright style of outfits, the morale of LRHS seems a bit more chipper than it was a couple of weeks ago. Students donned their favorite sports jersey, became a tacky tourist, wore their exam attire, represented their favorite disney character, and, to top it all off, they put on the school colors for the end of spirit week. 
The main goal for Spirit Week is to pump up students for a sporting event or boosting the overall feeling of Leesville. Well, the school certainly speaks for itself: students from every nook and cranny of LRHS dressed up for spirit week. The school was looking brighter and brighter with every costume that poured in from the main entrances. 
The fun part about it is the teachers got into the mix as well. Paul Dinkenor dressed up every day, showing that teachers could be just as fun as students. Dinkenor thinks that going along with spirit week could help out with the student body going out of their way to have fun as well. "I feel like dressing up, the costumes, the floats… are very much a part of a very fun week," said Dinkenor. 
All of the history department participated, including Sarah Cade, who engaged in the amazing week. "I've always participated in spirit week, and I love spirit week because I think it's a really cool way to show students that we support them and we get behind them in their ideas, and… it's like building a … relationship and building a team within the school," said Cade. Cade has been involved in spirit week for all of the seven years that she has been teaching at Leesville. She thinks that partaking in spirit week helps students contribute as well, especially if there is a competition involved. "I think I've been pretty instrumental in getting all of the social studies people on board to try to do it as well," said Cade. The history department won an award for their efforts to contribute, in the shape of an apple with words inscribed, showing that they are indeed the kings and queens of spirit week until the next year.
It was not just the history department that got all excited for spirit week — they were locked in an intense battle of the spirits with the science department. When Disney Day came around, they were parading around the hallways of the main building, sporting Aladdin costumes and playing theme music. Christina Dotson, of the science department, dressed up for the occasion and loved the idea of Spirit Week ever since Leesville Road High School has been open. "I've been doing this for twenty-seven years. I like the competition that spirit week gives us [against the science department] because it gives us a chance to step on each other," said Dotson. She also loves it when the students get involved. "One, it's just good for your mental health just to not have to work, and… it's just fun."
The seniors also managed to take a break from their stress filled lives to participate in Spirit Week. Seniors Maggie Bell and Max Buico gave their opinions on spirit week. "I think that it's one of the best weeks of the year because I get to dress up as something else, and I've always been sort of outgoing and love to dress up for this kind of thing," said Bell, who is also the student body president for her senior class.
 Buico has his own opinions of spirit week.  "Being part of two sports and yearbook, I think I'm very involved in the school and school spirit, and I just think it's fun to be able to participate with my friends," said Buico. When Buico goes on the cross country team, he tries to urge on the young runners to get involved in their school, even if they will transfer to another school next year. Both seniors enjoyed spirit week immensely and cannot wait to see what the school comes up with next year.
The school's spirit certainly has been lifted after the major event.. The week gave both students and staff permission to have fun with their mostly stress-filled lives, and both student and teacher bodies took the opportunity they were presented with.