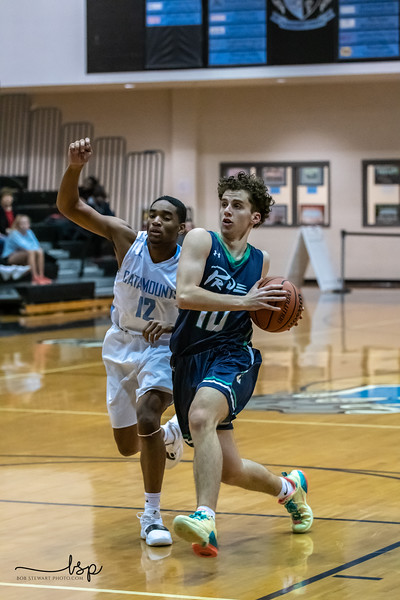 The Leesville Pride Men's Basketball team (4-3) played the Panther Creek Catamounts (9-1) on December 14.
The game started back and forth with the Pride ahead 7-6 with two and a half minutes to go in the first quarter. 
Panther Creek and the Pride traded threes with Jaron VanHoosier hitting a buzzer beater to make the score at the end of the first quarter, 15-13.
After each team scoring, the Pride and the Catamounts were tied at 20-20 halfway through the second quarter.
The Pride trailed Panther Creek 28-25 at the end of a hard fought half.
Leesville came out strong in the second half leading 31-28 in the first  five minutes of the second half.
Big man RJ Wilson hit a deep three and a reverse layup extending the Pride's lead and exciting the visiting Leesville Loonies making the score 36-28 with two minutes left in the third quarter.
The Pride broke out in the third quarter surmounting Panther Creek's halftime lead and made the score 37-32 at the end of the third.
Panther Creek climbs back to tie the game 41-41 with five minutes to go in the fourth quarter.
VanHoosier hits a big three with 3 minutes to go in the game cutting PC's lead to two with the score 50-48 Panther Creek.
The Pride trailed 56-48 after a series of questionable calls by the referees towards the end of the fourth quarter.
Leesville suffered a tough loss at Panther Creek, falling 63-49 to the Catamounts.
Fortunately for the Pride, they have a chance to bounce back against Cardinal Gibbons this week.
Stay updated with the Pride on Twitter.