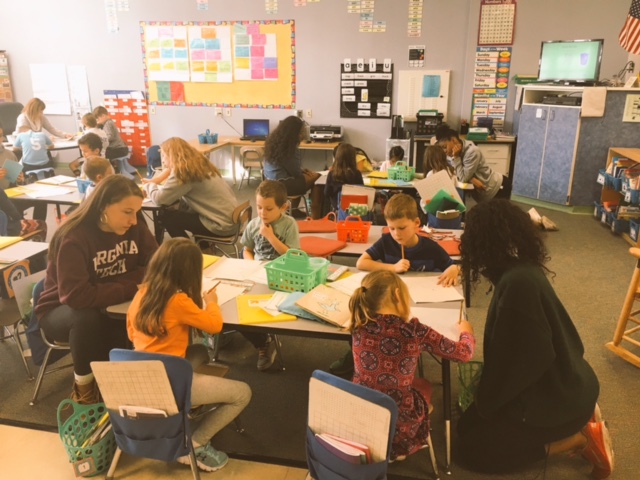 Every week, students in Russ Fraziers' second period weight training class head to either Sycamore Creek Elementary or Leesville Elementary to read with the third grade students.
Reading to the elementary students came about by a connection of Frazier, Leesville boy's varsity basketball coach. Frazier's daughter attends Sycamore and is a student in one of the classes the high school students visit.
When the high school students arrive, the classroom teacher provides instructions as to what they are doing for the day. Often times, each high school student gets a group of kids to read with. They ask the kids in their group if they want to read or if they want to be read to.
"They usually want to read because they are really good at reading," said Lauren Sande, junior and student in Frazier's class.
Not only do the students in Frazier's class read with the kids at Sycamore, but they also do other activities. "We helped them edit their letters to the teacher. They all had these letters about a book they read. We had to help them — if they misspelled something we spelt it right for them," said Larissa Colón, senior and student in Frazier's class.
Both sets of students enjoy their time together each week. "They are so enthusiastic. On every single page, it's something different," said Sande.
"My girl didn't really like reading, so it was fun kind of making up stories as we go…it makes it more of a fun experience for her," said Colón.
Sometimes after the designated reading time is over,the students might play games or dance with the kids. "When we went to edit the kids stories, at the end they put on this dance video and we were all dancing in the classroom," said Colón recalling her favorite moment visiting with the students.