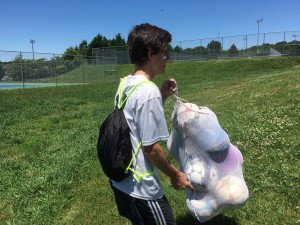 On Saturday, May 14, the JV men's soccer team held a pick-up game for all of its former players. Although it was planned to be a game between the JV men and women's soccer teams, it turned out to be a reunion for the JV boys.
Robert Bailey, a former JV men's soccer player, planned the event between the two teams.
"I thought it would be fun to do a game for the last time as a JV player before becoming a Junior. I got the idea from when I played in middle school; the boy's soccer team and girl's soccer team used to play against each other," said Bailey.
The game was arranged to reminisce on the men's fall season and to play with their past teammates.
"The game was definitely about the fun aspect in my eyes. During the season, we all had a great time playing together. I wanted to play with them one more time, so we could recreate the fun we had on the team," said Bailey.
Even though the game between the two teams didn't develop into something real, the men's team definitely enjoyed the experience.
"It was great to get out and see some of the guys again after a few months of not playing with them — I really love playing with this group. Even if it went against the original plan, just playing with the guys was great," said Paul Hock, a past JV player who attended the reunion game.
The men's reunion game panned out to be all it was meant to be: a fun experience and a moment for former teammates to play together again.