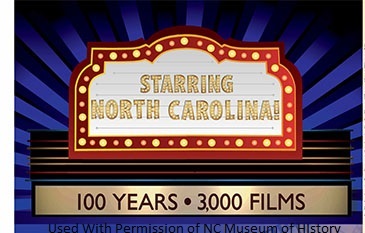 If you ask a North Carolinian where the Hunger Games was filmed, they will proudly tell you that it was filmed right here in North Carolina. Smaller towns like Asheville and Shelby were made famous as the sites for District 12 and the arena. However, it will come a shock to even locals that over 3,000 films have been shot in North Carolina.
"North Carolina is a beautiful state, with amazing locations and scenery," said Sally Bloom, an employee at the North Carolina Museum of History downtown. An exhibit will be opening November 15, 2014, featuring close to 60 films that were all shot in North Carolina.
Along with the exhibit, the museum is hosting the first ever Long Leaf Film Festival on Saturday May 2, 2015. The event provides filmmakers of all ages with the opportunity to show off their skills.
"There's a special category for middle and high school student filmmakers, with cash prizes! Come celebrate original historic and contemporary films and filmmakers," said Bloom.
Blockbuster films like Iron Man 3 and Teenage Mutant Ninja Turtles choose North Carolina for its topographical diversity. Superhero action movies like Iron Man 3 tend to jump from landscape to landscape several times over the course of one movie. Therefore, North Carolina, with its beaches, forests and mountains is prime for these transitions.
North Carolina's rich history and culture sets an accurate backdrop for period dramas. The Last of the Mohicans was based on the book by James Fenimore Cooper. The book is set during the French and Indian war, in which battles were fought all along the western border of the thirteen colonies. The book explains that Native American populations were dwindling, and that they were fighting for survival. There are tribes that originated in North Carolina and have decreased over time including the Cherokees and the Lumbee, giving North Carolina's mountains and forests the perfect historical context.
"Filmmakers were using the Appalachian Mountains for 'westerns' in the early 1900s," said Bloom.
The Colour Purple, set in the early 1900s, follows the life of young Celie Harris as she faces the struggles of life as a woman in the south. The majority of the southern lifestyle was centered around farming and very small communities. To this day, the piedmont region is home to several small towns with surrounding farms, their economy benefitting from the movie industry.
"Filmmakers and business people realized very early on that bringing this industry to our state would be good for the state's economy," said Bloom.