For Leesville community members living in neighborhoods to the south of the library, park and school complex, a new route to the area's public facilities may soon begin construction.
A new 10-foot-wide path could connect Country Trl., which borders directly with Leesville Park and Library and Leesville Elementary School, and Whitley Drive, a small cul-de-sac off of Sprague Rd. with proximity to Hilburn Dr. and the North Forest and Breckenridge neighborhoods.
The paved trail would stretch about a third of a mile, following the cleared route of an easement on its northern half before embarking into the woods when approaching the residential area. Three noteworthy plants – Pennsylvania sedge grass, Christmas fern and Fringetree – have been identified along the route.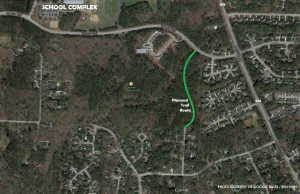 According to the project's information page on the City of Raleigh website, "This trail will provide an alternate route into the park and to Country Trail for pedestrians, bicyclists, and others coming from the neighborhoods south of Leesville Park."
For residents to the south, access to the park and three schools can be limited. Those in neighborhoods in the Lake Lynn, Pleasant Valley and Grove Barton areas are forced to travel on either Leesville Rd. or Pinecrest Rd. heading north.
While a Hilburn extension to Pride Way is planned as a future traffic-focused project, the new trail will provide non-vehicle travelers with a convenient connector through nature.