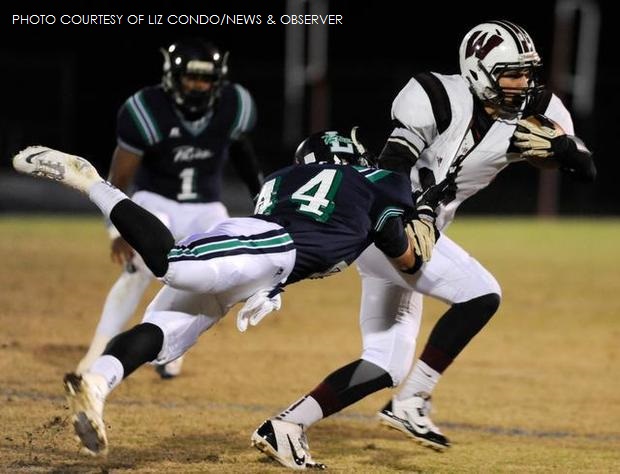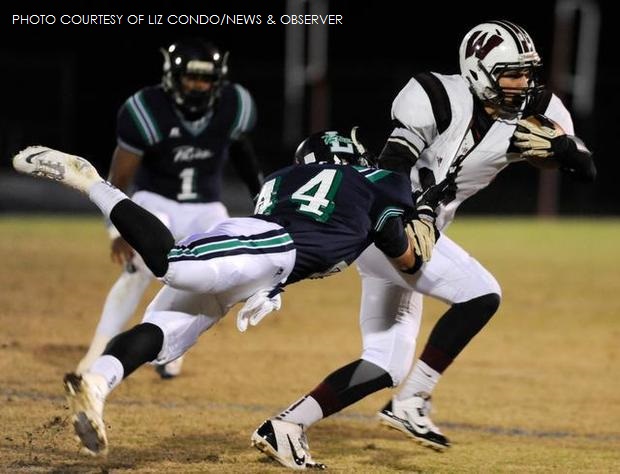 One by one, the seniors of the 2013 Leesville football team walked out with tears streaming down their faces.
Elation over an apparent Braxton Berrios game-winning touchdown catch with no time left turned to utter disbelief when an illegal shift penalty negated the play. A final desperation pass fell incomplete, and Leesville's Senior Night was spoiled with a 34-31 loss to Wakefield.
The play had gone off-script. This was not the way it was always supposed to end.
Berrios squatted in agonizing despair along the goal line. Malcolm Hitchcock, coming off another marvelous effort in the offensive backfield, looked lost in another world inside. Brock Pyper seemed to feel all the emotion of the night rush back at once.
Just moments earlier, Leesville miraculously converted a 4th-and-10 to move the ball to the 25 yard line with 12 seconds left. Just moments before that, Berrios caught a 30-yard touchdown pass from Hitchcock to put Leesville (8-3, 5-2) ahead 31-27 with 1:32 left — a score that answered a go-ahead Wakefield (10-1, 6-1) touchdown with 3:03 left and was then answered by another Wolverines touchdown with 50 seconds left.
"I'll have to look at the film, but I feel like our coaches on our sideline, we saw [the penalty] happen," said Chad Smothers, head coach. "I'll have to look on film to see if we were set when I set."
"We ran out of downs and we ran out of time."
For the Pride, who led 14-0 in the second quarter at 24-20 entering the game's final four minutes, the chaotic, adrenaline-laden excitement of the closing possessions dissolved rapidly into a nightmarish memory they may play forever to try to forget.
It was not for lack of trying. The game began in fantastic fashion, as a passing connection from Berrios to Conner Eller opened the scoring and a Hitchcock run a half-hour later put the Pride ahead 14-0. Wakefield stormed back to take a 20-14 lead in the third quarter before a 25-yard field goal and another Hitchcock touchdown gave Leesville the advantage with 9:09 to play.
Then Evan Brabrand, Wakefield quarterback, seemed to simply take over the game. He threw for three touchdowns, including two in the final minutes, and ran for another in an all-around MVP performance. "Second half, our inability to contain the quarterback is what got us beat," said Smothers.
In the end, Leesville's effort was not enough to earn a third consecutive Cap-8 conference championship. Their second home loss of the stadium also marked the first time the team lost multiple contests at Hamilton Stadium since the 2005 season.
The Pride's seeding and first-round matchup in the upcoming NCHSAA 4AA playoffs, which begin next Friday, Nov. 15, will be determined Saturday. It's a tremendous opportunity for the Pride to still finish their season on top, but also one that will test the team from the start.
"I'm sure they're extremely disappointed," said Smothers. "We're going to have to get over it as a team and move forward. You can't let one loss get you beat twice."