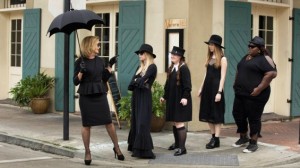 Since the first season's premiere in 2011, the American Horror Story series has been one of my favorite shows on television. Now that season three, Coven, is four episodes into the season I figure it's time to do this season some much deserved justice.
Ryan Murphy and Brad Falchuk, the creators of the show, have already pulled me into the intertwining storylines of the characters of the show. Following the path of the other two seasons, Coven includes many storylines throughout the one season; the show doesn't focus on one plot and one climax — all plot lines runs together and correlate perfectly, giving viewers abundant doses of different plots, highs and lows and twists.
Coven actually starts off in early-1800's New Orleans with a quick insight on the slave-torturing household of Delphine LaLaurie (Kathy Bates). Long story short,  Marie Laveau (Angela Bassett), New Orleans' own Voodoo queen, gives LaLaurie a potion that is supposed to make her look younger — but actually gives LaLaurie immortality — to avenge the brutal beatings and torture to Laveau's lover that LaLaurie performed. LaLaurie is then forced into a wooden casket and is buried alive, living forever underground.
The plot then jumps to modern day and follows Zoe Benson(Taissa Farmiga) who has just discovered her powers and is immediately sent to Miss Robichaux's Academy for Exceptional Young Ladies where she meets three other witches of her age: Madison Montgomery (Emma Roberts), a telekinetic movie star, Queenie (Gabourey Sidibe) a human voodoo doll and Nan (Jamie Brewer) a clairvoyant. This school is taught by Cordelia Foxx (Sarah Paulson), who is a soft-spoken potion maker.
The drama unfolds, connecting the past and present, when Fiona Good (Jessica Lange), "the Supreme" and Cordelia Foxx's mother, unearths the undead LaLaurie to figure out how she has stayed alive for so long. Laveau catches word of her worst enemy's resurrection, and it starts a whole new drama between the Voodoo witches and, what some may call, the "Team Salem" girls.
Huge plot right? Well it just keeps going deeper — but I'll stop there to avoid spoilers.
Coven is always interesting and there is a huge — I mean huge — confluence of characters. I am never bored while watching it. However, someone who is just tuning in to this great show has to start from the beginning to understand what's going on. Every episode unveils more secrets and plot twists so jumping right in is definitely a challenge and may turn those viewers away.
This season of American Horror Story has brought back some of my favorite actors from the previous seasons. Thats what make's the concept of American Horror Story so cool — every season is set in a different time period with different characters, but they are all played by the same actors.
Murphy and Falchuk have brought on a few actresses who I adore: Kathy Bates as LaLaurie, Emma Roberts as Madison Montgomery and Angela Basset as Laveau. The only casting disappointment for me is that Zachary Quinto, who was in season one and two, will not be returning.
My favorite character in the show — and the most mysterious — is Misty Day (Lily Rabe) who has the power of resurgence. Her character, although undeveloped, has some really cool characteristics; Day is obsessed with Stevie Nicks, convinced that she is a witch and, that fact that she lives in the swamps, bringing poached animals back to life. I hope that sometime in the season, Day will come to the school and join fellow witches.
Honestly, what makes Day such a stand out character to me is actually the actress who was chosen to play her, Lily Rabe. In American Horror Story: Asylum (the second season), Rabe plays a completely opposite character — a nun possessed by Satan. Rabe deserves some sort of award already for her incredible ability to act. This season, playing Day, the hippy, is the antithesis of her last character which really impresses me, especially compared to other actresses on the show.
For example, in all three seasons, Jessica Lange has sinister, sneaky characters — and power to her, because she was born for those characters. But Rabe's ability to switch between characters really impresses me.
The only downside to Coven is that it can be weird. The show throws many, many curveballs at the viewers that put me off a little bit. I don't want to go into a ton of detail, but there are a few sex scenes that left me with my mouth wide open. I understand Coven is rated TV-MA-LSV because of the language, sex and violence, but some scenes just blow me out of the water because of the graphic content.
Other than those few really weird scenes, Coven is absolutely fantastic. Watching this show is the highlight of my week, and I recommend Coven to anyone.