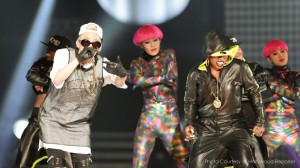 G-Dragon and Missy Elliott took the stage at KCON 2013 in one of the most talked-about K-Pop collaborations to date. They debuted their song "Niliria" live in front of thousands of fans.
Unfortunately for them, most Americans were huddled around their TVs watching Miley Cyrus twerk herself into a tizzy. Luckily for those Americans, you can watch the official performance on YouTube.
What makes this performance so special is the fact that you can tell that they are enjoying themselves. The stage has missed Missy and you can tell that she misses it. She has a grin on her face the entire time. G-Dragon's enjoyment is just as apparent. G and Missy dance around the stage with both of their backup dancers (one of which lost a shoe, but continued to perform).
Once the performance was over, G gave Missy a big hug, and they posed before leaving the stage. It was the definition of a Kodak moment!
Everyone knows who Missy Elliott is: the legendary rapper who made her debut in the late '90s with her hit "The Rain (Supa Dupa Fly)". Her last full length album, The Cookbook, was released in 2005 and a compilation album Respect M.E., was released in 2006. Since then, her comeback has been long awaited. Besides a few minor features, Missy hasn't been on a stage in years.
G-Dragon, on the other hand, might be a little less familiar. He is a Korean rapper and leader of the boyband Big Bang. He's known for his outrageous and sometimes controversial style.
G-Dragon is no stranger to high-profile collaborations. He's made songs with big names from America, Asia and Europe, such as Flo Rida (Low) and Psy (Gangnam Style). His current album features songs produced by Baauer (Harlem Shake) and Diplo (Express Yourself).
I'm guessing that after this collaboration, several other big names in the music industry will be dying to work with him.
G-Dragon and Missy's collective comeback made this KCON one to remember.