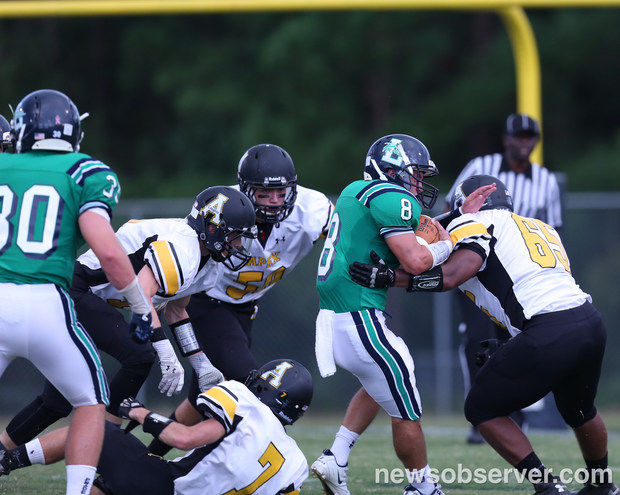 The Leesville football team exploded for 26 second-quarter points to defeat Apex 40-6 on Thursday, Aug. 29 in the 2013 home opener at Marshall L. Hamilton Stadium.
Bolstered by the debut of new green uniforms, the Pride forced three turnovers inside the five yard line and accumulated 426 yards of total offense to improve to 2-0 on the season.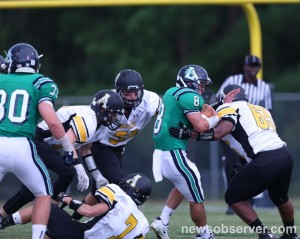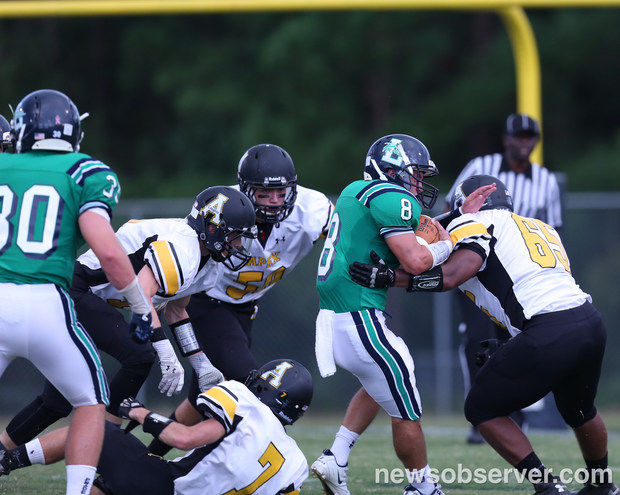 Braxton Berrios, senior quarterback, ran eight times for 67 yards and a touchdown, completed four of six passes for 139 yards and three touchdowns and intercepted two Apex pass attempts in another dominant performance on both sides of the ball.
Leesville's defense served as the starring unit of the night, racking up six turnovers off the Grayson Boyd-led Apex offense (including four in the red zone). The Pride stopped a nearly certain Rondell James touchdown by forcing a fumble at the one yard line that resulted in a touchback. Malcolm Hitchcock, senior, also recorded a 93-yard fumble return for a touchdown after the visiting Cougars moved the ball inside the five late in the first half.
Chad Smothers, head coach, was pleased with the night's events. "We came out, we were good right out of the gate, and the kids played really, really hard," he said. "We took advantage of their mistakes and were opportunistic."
Berrios expressed similar feelings. "We opened it up well. We really didn't wait on this team — that's something we improved on from last week — [and] got up…40-nothing at half. You can't ask for too much better right there," he said.
The return of Elisiah Richardson, junior wide receiver, made a tremendous impact on the passing attack. Richardson hauled in touchdown passes of 48 and 66 yards in his 2013 debut.
"We finally passed. You've got to pass to have a passing game," said Berrios, chuckling after being asked how the team did so well over the air. "Nobody really sees us pass, so it's advantageous to us when we do." He called out Richardson as one of Leesville's two most impressive players in his evaluation of Thursday's contest.
Hitchcock and Mike Dehaney, junior, each registered touchdown runs of 10 and 37 yards, respectively, of their own. They, along with fellow running backs Marcel Hawkins, senior, and Sherrod Taylor, sophomore, accumulated a solid 188 rushing yards on the night.
"We came out, we jumped on them and did what we game planned to do," said Berrios. "We executed everything."