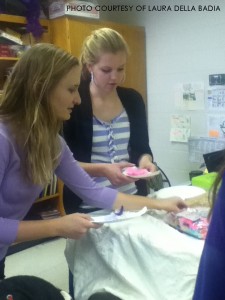 Mardi Gras occurs once a year on Tuesday, either in February or March and is celebrated for over a week. On the French Catholic holiday, Leesville's French Club celebrated the green, the purple and the gold.
What is Mardi Gras, though? According to Merriam-Webster, Mardi Gras is "a carnival period climaxing on Shrove Tuesday." However, those who have been submerged in the culture know that it is more than a carnival. Mostly celebrated in Louisiana, people gather together for this last day of feasting before giving up certain food and pleasers for Lent.
During the celebration, balls and parties are held along with parades. The French club showed a video of the Krewe of Rex's parade, the main parade company in New Orleans.  Different parade companies have been scattered throughout Louisiana for centuries. Leesville's homecoming parade is a modest version of the major parades in Louisiana. The motor floats are yards high and wide covered in elaborate decorations.
Those on the floats are dressed in large gowns and tuxedos with masquerade masks and hats. They throw out beads, cups, medallions, coins and stuffed animals to the crowd standing nearby as the floats pass. The crowd is contrived of families and friends of all ages, including the really young and elderly. Before the float, many people spend the day at the sight playing games and eating.
Every float and every experience is different. Sometimes, it will be freezing and raining or humid and hot. Some people snatch the thrown items from others while some are very considerate.
After the video, the officers cut the King Cake, which is served at all Mardi Gras parties. Resembling a large donut, the King Cake is filled with custard and has sprinkles on the top in the official Mardi Gras colors. Traditionally, green represents faith, purple justice and gold power. As to traditions, the host of the party enters a tiny plastic baby that represents Jesus into the cake from underneath. Originally, a golden bean was inserted into the cake instead. Whichever party guest finds the baby in their slice is expected to host the next Mardi Gras party. The passing of the King Cake is also practiced in many Louisiana Sunday schools.
After the cake, French club decorated face masks with markers, crayons and feathers. Masks can be found on those involved in the parade, at one or at a party. In centuries past, the hosts would throw extravagant masquerade balls rather than modern day parties.
Even though Mardi Gras has slightly changed over the years, and is mainly celebrated in Louisiana, being involved in the holiday is addicting. For many, attending only one Mardi Gras parade or party will never be sufficient.