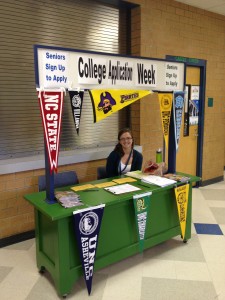 The week of Nov. 12 is College Application Week at Leesville Road High School. The purpose of this event is to help and encourage seniors to complete their college essays.
Submitting applications is a difficult process for many students, especially when completing more than one, all with similar deadlines. On Thursday, Nov. 15 during first, second and fourth period, Leesville's counselors were available to assist any interested seniors in the application process who signed up for the event.
One of the most challenging parts of applying to college is finding the time to do so. Class, homework, sports, jobs and the other stresses that come with senior year take up all the time in the day. By completing applications during the school day, this problem is resolved.
The application fees for 28 private schools, four public schools, and all community colleges in North Carolina will be waived during this special event for those who seek help. When the cost to submit just one application averages $60, this is a very generous offer.
Not only do the numerous applications become costly, many sections of the applications are difficult to understand and extremely unclear. Through this event, the counselors will be able to answer any questions about the application itself and help each student in actually filling out the application.
Courtney Moore and Chasidie Glover, both seniors, attended the function in search of help with filling out the physical applications.
"We basically just went in and worked on college applications. Mrs. Canada was there telling everyone how to send transcripts to schools," said Moore.
"They handed out this form that we could fill out with all of our information on it so it would be easier to fill out multiple applications," said Glover.
The two agreed that this event was helpful in the application process and that it put an end to the procrastination.
Glover said that it was especially helpful for students who did not speak English. "I saw this one girl who was from India and she didn't really speak English, I know that it was really helpful to her and other students who needed the extra help."