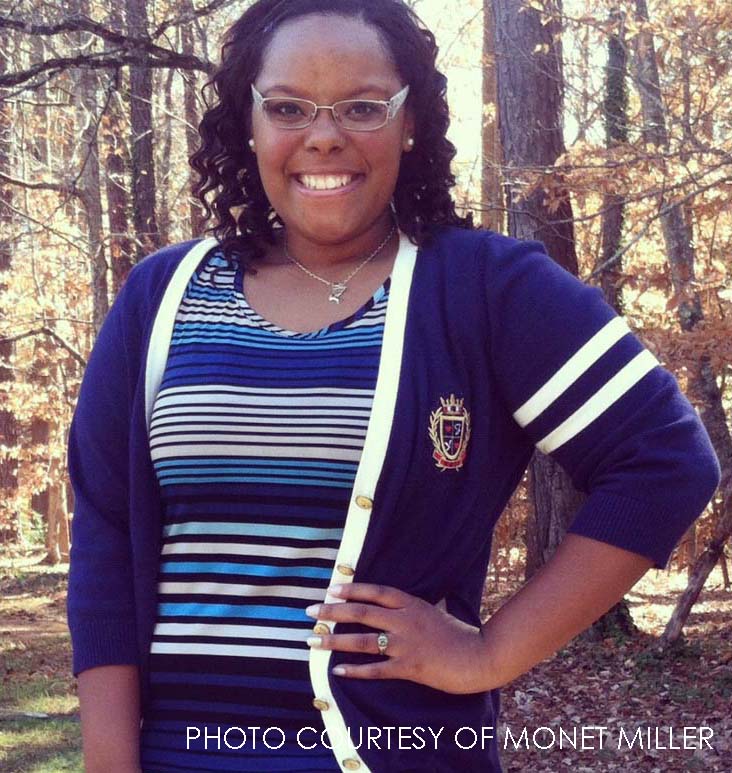 She wakes up and takes a shower. She then looks in the mirror and hates what she sees. She wears a big sweatshirt she tends to hide in. She goes downstairs and can't decide whether she should eat breakfast or eat the donuts sitting on the counter. She grabs a bag of chips and runs out the door.  It's 6:45 a.m., if she doesn't leave for school right now, she'll be late.
The two subjects featured in this article are not obese. However, they are two Leesville students who are willing to share their story of struggle with their weight throughout their childhood until this point and how it has helped them become a better person.
The first is Monet Miller, a senior at Leesville. She shared her story.
"I have lived with my grandparents for as long as I can remember. When I was growing up, they spoiled me and let me eat whatever I wanted. I was always bigger than everyone else. My weight has been a struggle throughout my childhood. I lost a lot of weight before ninth grade. I think it had a lot to do with the pressures of fitting in in high school. During my sophomore year, I maintained a healthy body weight. In eleventh grade, I gained it back. The summer before senior year I lost it again. I'm okay with myself right now, but I have a goal. I'm working hard to reach it."
Chris Pendergraft, junior, shared a somewhat similar scenario.
"I've always been big. Since elementary school, I've been involved in three sports throughout the year. It keeps me busy, but it takes a lot of time away from important things. I don't always have time to sit down with my family and eat a nutritious dinner. Friday nights, for example, I don't even get back to the school until 11 p.m. after football games. The only places open at that time are fast food places, and that's where we end up going. You got to eat what you can."
With the situations these two are in comes bullying, but also a chance to overcome adversity.
"People think I can't do things because of my weight. I love to prove them wrong. You learn to put off what people say. People try to make fun of me when my weight training class has to run and say things like 'you can take a break if you want to, or, 'aren't you tired?' which motivates me to keep going even more," said Pendergraft.
Miller recalls similar situations like Pendergraft's that happened to her.
"My middle school years were probably the worst years of my life. I was made fun of every single day about something I felt like I couldn't control. I remember walking through the cafeteria one day and someone threw a can of Slimfast at my head. The worst part about it was I couldn't do anything about it."
With strikingly different lifestyles, Pendergraft a strong football player and Monet a sweet chorus singer share many similarities in experience, thoughts about themselves, and thoughts about how others view them.
"I've become a better person. I don't judge other people as quickly as I used to. I'm mentally a lot tougher now, which helps me be physically tough. Football also helps me take a lot of anger out," said Pendergraft.
Miller shares advice for others who struggle with poor body image.
"Be comfortable with your body. No one knows how you feel but you. If you dress confidently and act confidently, other people will believe, and you will believe it, too. Everyone is beautiful in their own way. Every girl should feel beautiful. Cliche, but it's true."