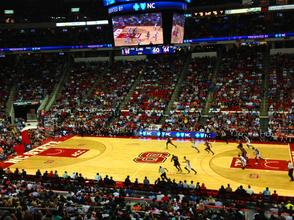 The PNC Arena had an announced attendance of 17,924 people, all coming to watch basketball. The NC State logo was in the center, and Duke basketball coach Mike Kryzewski sat courtside. There was a difference this year, though: A NBA game was being played. The defending champion Miami Heat had come to Raleigh to face the Charlotte Bobcats in a preseason exhibition game.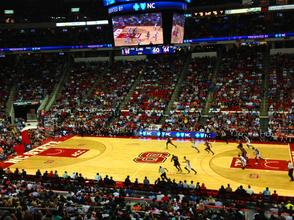 The Charlotte Bobcats were at home in Raleigh, although hardly anybody came to watch them play. They were after all the worst team in the NBA last year. So it was fitting that they would be pitted against the defending champions, Miami Heat.
The PNC Arena, then RBC, was expected to see the Miami Heat in the preseason last year. Unfortunately, the NBA was in a lockout, and the game was canceled.
The Bobcats want to build team interest outside of Charlotte, which of course, is hard when you have the worst winning percentage ever in an NBA season. They weren't very successful, as the cheers for the Miami Heat far exceeded that of the home team.
"It was a preseason game, and I know the Heat weren't playing to their full potential," said Cameron Marshall, Leesville High graduate. "Most of the people there went to go see the Heat play, not the Bobcats."
The Heat came away with the victory 98-92. Granted, it matters little because the preseason is insignificant. The preseason is simply practice games to get teams ready for the actual season. It will be interesting to see whether we start to see more NBA games being played here in the Triangle.
Chances are, however, we won't be seeing too much NBA action. Tobacco Road has arguably the best college basketball in the country. We are used to seeing high levels of effort from every player, and most importantly, are used to winning. I'm sure the Charlotte Bobcats know not too many people will show up here to see the worst team in NBA history.
Unless, like this year, they are up against the elite teams in the league.