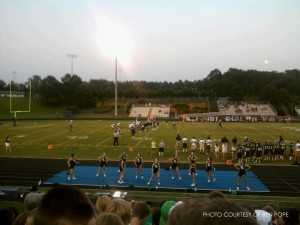 Despite significant personnel losses from a record-breaking 2011 team, Leesville's varsity football team has shown few signs of rust so far this fall.
The team rode on the shoulders of Braxton Berrios and Maurice Lauchner en route to a 49-0 victory over Durham's Jordan High School on Thursday, Aug. 30, improving to 3-0 on the year.
Berrios, junior, compiled 15 rushes and three receptions for 130 total yards and three touchdowns.
Lauchner, senior, carried 25 times for 151 yards and one touchdown, throttling the overmatched Jordan defense play after play. "I think I did good. It was all because of the offensive line; they did a great job," he said.
After graduating all five 2011 starters last spring, the inexperienced offensive line has played soundly, paving the way for the Pride's ground game success.
Despite conservative play-calling — Evan Parker, senior quarterback, attempted just five passes — and ample second-string playing time, Leesville cruised past Jordan, leading 35-0 by halftime. In terms of yards, the Pride (3-0) outgained Jordan (1-2) by a whopping 422-88 margin and held the visiting Eagles to just seven yards in the entire first half.
The win finishes Leesville's non-conference schedule, which also included 21-7 and 39-20 wins over Panther Creek and Green Hope, respectively. Following a bye on the first week of September, the team will kick off their Cap-8 season at home against Enloe (0-3) on Sept. 14.
"I think if we keep working hard in practice," said Lauchner, "hopefully we can go all the way to states."