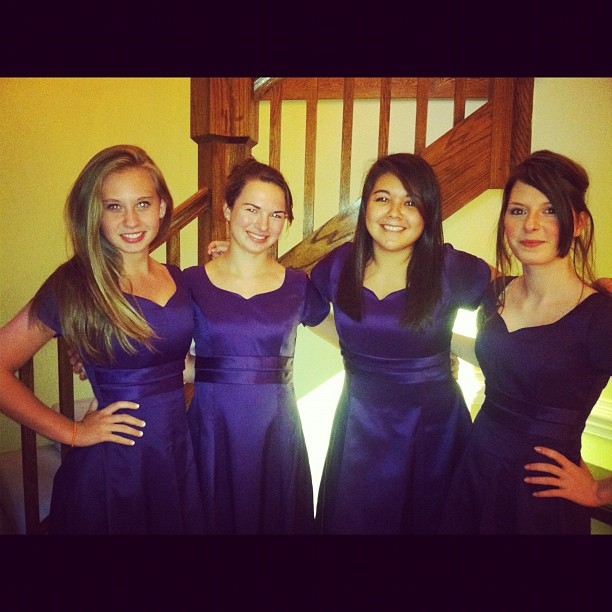 Beginning chorus and new Capital Pride students in Leesville's choral department will have new green and purple dresses starting this year.
The reason for the dress change is a lack of funds for the old hunter green and eggplant purple dress fabrics. The new dresses have the same color and name but are made of a different fabric. Money made from students buying the uniforms and fundraisers was no longer covering the cost of the material.
The new designs are brighter in color than the original dresses and are made with a thinner material that will cinch at the waist. Another addition to the new dresses is a sweetheart neckline.
While this year's beginning chorus will feature the new dresses, returning Capital Pride and intermediate chorus students are not required to purchase the new style. The changes in dress uniforms will create an onstage mix of old and new hues of purple and green.
Each dress is $85, about half the cost of the old $150 custom tailored dress. It is cost-effective for both the program and its prospective students.
Diane Covington, the choral director at LRHS, and the Performing Arts Boosters chose Performance Attire of IDAHO for their more flattering style. "It's all very favorable, actually more favorable for this dress than our old dress," said Covington.
Madeline Graebe, a junior in Capital Pride this year, said, "You can dry clean them yourself. You don't have to take them to the cleaners, and we got them custom made tailored already, so they fit to us."
There will not be a used dress sale anymore, with dresses at half the original $150 price. It is a down side for both thrifty chorus parents and siblings of students that had previously taken chorus as they cannot use their sibling's dress either. Old dresses are no longer allowed to cycle through the program, in order to create more uniformity in each class.
Kathy Arney, Performing Arts Boosters Uniform Coordinator, will have more information for interested sellers of used dresses in good condition.