Leesville's Social Studies department participated in its third annual school supplies drive from Aug. 27 to Sept. 7. Typically, fundraisers collect money that is sent to charities or foundations, or maybe even the school, but the donor does not see where their money goes. This fundraiser was different.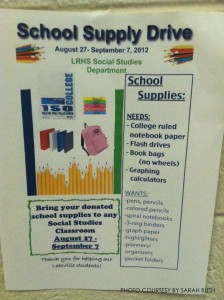 "I really liked this fundraiser because I knew exactly where the things I donated will go," said KT Underwood, junior.
All school supplies were collected in Social Studies classes, and the supplies were then divided among students at Leesville High, Middle, and Elementary who need them.
"I feel like I'm really making a difference for someone else. It's a great reminder that you don't have to go far to help people in need; they are right here at our school," said Underwood.
Leaders of the fundraiser had high hopes for its outcome. "[The social studies department] has been doing this fundraiser for several years. Our purpose is for students who need to go to student services for school supplies can easily access them. Our hope was that we would have enough to donate grade level-appropriate school supplies to the middle and elementary school too, like we did last year," Mrs. Mosley, social studies teacher, said.
The social studies department will announce the results of the fundraisers in a few weeks.
Anything from pencils to graphing calculators was accepted; no donation was too small.