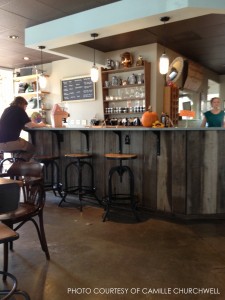 As I sat down with my Iced Chai and looked around, I noticed Sola Coffee had a certain vibe to it. Maybe it was the bustling conversation or the whirring of various coffee machines and blenders, but the air smelled of something more than just coffee.
I saw a group of friends gathered to share a beverage and some memories, businesswomen who typed away their at laptops and collaborated on new ideas, and some who just were there for simple, yet delicious food. Due to the dynamic feeling of Sola, I quickly realized this establishment was no mere Starbucks.
Unlike large chains, Sola is locally owned and operated by the Luther family, who opened their cafe six months ago. They envisioned Sola to be a social hub in the community where people can meet over their favorite drink or treat. Based off my personal observations, this vision has definitely manifested itself there.
Sola's impact on the community goes far beyond its social aspects. By serving Counter Culture Coffee, Jeanie Luther, owner, knows the roaster of their coffee beans who lives and operates in Durham, North Carolina. The roaster acquires the coffee beans from small farmers who he knows as well. This relationship also sparks an economic bond in the community.
Counter Culture offers seminars at their training center in Durham on how to brew the perfect cup of coffee, and taste tests on the available types of coffee. This too creates a sense of community between the source of their coffee and the owners.
Sola not only features local food and beverage, but serves a venue for local artists. Many original pieces of art hang on the walls of Sola as an advertisement for the artist. Owners, John and Jeanie, reach out to local performers as well, and offer live entertainment on various Fridays of each month.
Luther reiterated how she is not only proud of their incredible coffee and food, but she enjoys seeing people take ownership of Sola. She recounts seeing businessmen spend hours in a booth and then moving to a table outside or in a different location. Luther said, "We want to be a place in the community where people feel like they kind of know us, and we can share this space with [the public]."
During the "retrofitting" of the old bank that is now Sola, nearly 200 volunteers from the community reached out and offered a hand in a single day. Luther believes their dream of uniting the surrounding area was achieved at the sight of this amazing feat.
Unlike large restaurant chains, where you're in and out as quickly as possible, Sola's atmosphere invites one to stay around and enjoy the cafe for a while. The quaint outdoor seating offers customers a place to escape the bustle of everyday life and take a load off. Under the constant buzz of conversation inside Sola, lies a serene characteristic of the air that may induce productivity for some, or reminiscence for others.