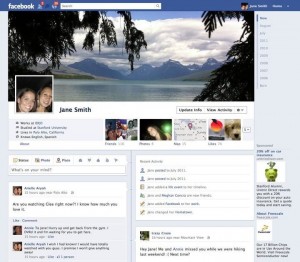 Facebook is infamous for constantly releasing changes that set the online world afire. Whether it be a new homepage format or a new way to upload pictures, Facebook never ceases to surprise its users.
Facebook recently released one of its most drastic changes: A new profile page format dubbed "Timeline." The timeline features allows users to display the story of their life, in a vertical, scrolling, format.
The timelines will display all the same items that appeared on Facebook walls previously, such as status updates, wall posts and photo uploads, just in a different, more chronological style.
The timeline starts by displaying the users most recent activity and continues to progress throughout their entire life. Users can click on a specific year and view that user's prominent activity from that year. In other words, those embarrassing pictures from sophomore year are likely to resurface.
Any Facebook user is eligible to get a timeline. They can easily do so by vising the Facebook Timeline Announcement page and clicking the large green "Get Timeline" button. The timeline announcement page also offers a walk through of the timeline page and how to use it.
Mary Robert McGrath, senior, eagerly dove into the timeline craze. "Timeline was annoying at first, but I really like it because its easier to access my old Faceboook stuff. I can really stalk myself and others more efficiently," said McGrath.
An interesting feature that timeline offers is the "cover photo,"  which is a large photo that spans the top of your profile. Separate from your profile picture, your cover photo can be a photo of you, your friends, or just a pretty outdoor scene. Some users consider this cover photo similar to a "layout" on Myspace.
McGrath carefully chose her cover picture to be a photograph of trees: "I was excited that I got into Appalachian state, so I made my cover picture a photo of some mountainous trees," said McGrath. "But it's very important to coordinate your profile picture with you cover picture!"
Like many new Facebook features, Timeline is sure to soon be commonplace. New features such as these keep Facebook exciting and popular, unlike its dying counterpart, Myspace.
Katy has been on staff since her sophomore year, starting as a staff writer. With hard work and diligence, she earned a junior editor position and ultimately became Editor-in-Chief her senior year. She will pursue a degree in journalism in college.