In October, the PTSA handed out Honor Cards for those who have a GPA of 3.0 or higher. Over fifty local businesses sponsored the program this year.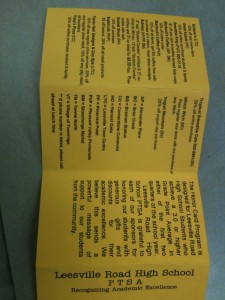 Leesville students and their families frequently visit most sponsors on the card. Some of these places include Yogurt Mountain, Backyard Burgers, Leesville Taproom, and Goodberrys. There is a wide range of sponsors on the honor card, all offering different types of valuable discounts.
"I go to a lot of places on the card, so it's easy to stop by and use it," said Priscilla Block, sophomore.
Emily Yoo, sophomore, said, "I go out to eat at a lot of places, and it gives you discounts that saves my money."
Both students and sponsors benefit from this program. Victor, manager of Shiano's Pizza, said, "It brings in more traffic."
The honor card saves Leesville students money when used frequently. Teenagers are always needing for money for gas, clothes and food. "By the end of the year, it adds up," said Block. She adds, "Even if it's fifty cents, you're still saving money, and you can use it toward something else."
The honor card provides the extra push for students to do well academically. Emily Yoo said, "I actually have motivation to get good grades."