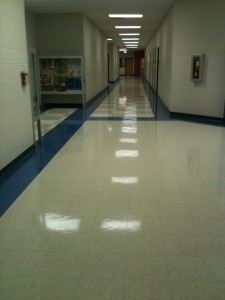 Leesville started the 2011-2012 school year with 2,200 students, about 200 less than last year. However, the downsize of our student body is not due to recent budget cuts.
According to Scott Lyons, principal, "The Growth and Planning department at the WCPSS central office marked the amount of classrooms at Leesville incorrectly. Eight classrooms in the east building were thought to be part of Leesville Middle."
"The department believed we were over capacity and decreased our enrollment. The department realized its mistake after Leesville's plans for this year were created." It was too late to correct their mistake.
Although Leesville lost a few teachers, class size remains unchanged. Principal Lyons said, "Class sizes remain at around 27 or more students. The student-teacher ratio stayed virtually unaffected by enrollment."  According to NC Report Cards, the average class size last year was 26.
Fewer students in the hallways and a less crowded cafeteria are the most prominent changes for the student body. "This year I've noticed a few more empty chairs in the cafeteria," said Rani Corak, sophomore.
"Teachers who previously had mobile classroom carts, now have their own rooms," said Lyons.
The administration, however, lost one full time assistant principle and one counselor due to lower enrollment.
Per Pupil spending in Wake County in 2009 was $7,821. Enrollment determines the school's income. This means less money for fewer students.
Lyons speculates on our loss of funds. "Having fewer students will affect the school's purchases of big ticket items, or items used by the entire school," said Lyons. "Items such as Smartboards and computers."
While a 200 student downsize seems drastic, the effect on the student body is minimal. Leesville is expected to repopulate again next year.